Utne Hotel
Utne, Norway
The Romantic Hardanger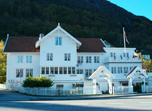 Breakfast, 3-course dinner, cider, and fruit in your room upon arrival.
Bring your darling to Utne hotel in beautiful Hardanger and have a memorable and relaxing stay in historical surroundings. Enjoy each other and the magnificent view with something lovely to drink. Breathe in energy while you take a walk in the beautiful landscape, or have a refreshing bath in the fjord. A delicious 3-course dinner in the evening makes the stay perfect. No TV. No stress. Just pure pleasure.
There are no special offers currently available.