The American Club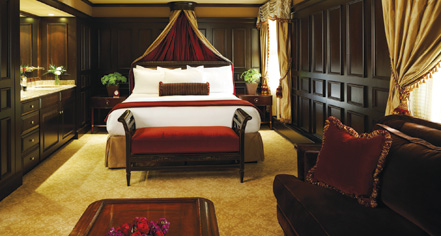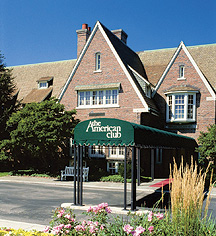 Dining
The Immigrant Restaurant and Winery offers fine wines and contemporary cuisine with a decor that reflects the village's early European immigrant heritage. Dinner is served Tuesday through Saturday. Jackets are required for gentlemen, and reservations are recommended. The Wisconsin Room is The American Club's historic dining room, where regional favorites are served daily for breakfast and dinner. An American Bounty seafood suffet is offered on Fridays and a grand brunch is served on Sundays.

For a truly hearty, low-key dining experience, check out The Horse & Plow. In keeping with its salt-of-the-earth name, the restaurant serves soups, sandwiches and salads at lunch and dinner in a tavern-like atmosphere. The beer menu consists of more than 80 domestic and international bottled beers and more than 12 Wisconsin beers are on tap. Breakfast is served on Sundays.

The Greenhouse, meanwhile, specializes in getting the caffeine-and-sugar monkey off your back. The coffee bar features specialty coffees and homemade ice cream in an old-fashioned dessert parlor.
Offsite Dining
The Blackwolf Run clubhouse, a rambling log structure overlooking the golf course, serves hearty fare. After a recent renovation Cucina Italian Restaurant reopens its doors with a new open-concept, expansive views of Wood Lake and a new menu featuring chef-designed wood grill fire entrees, along with a raw bar and enhanced wine list.

In keeping with its rustic name River Wildlife is a private dining and recreation club located in the heart of a 500-acre wilderness preserve. This rustic log cabin in the woods features hearty countrified gourmet cuisine that changes with the seasons. Guests of The American Club may purchase a $17 daily membership pass for entry to this private club.

Take 5 Cafe, located at Sports Core Health and Racquet Club, offers freshly brewed coffee, heart-healthy smoothies, fresh salads and daily soups. Whistling Straits Restaurant is located in the fortified stone clubhouse nine miles northeast of Kohler. The restaurant offers distinctive American cuisine with an Irish flair.

Craverie Chocolatier Café is the home of KOHLER Original Recipe Chocolates, but also serves an assortment of soups, sandwiches, pastries, coffees and, of course, desserts.