Antica Dimora Suites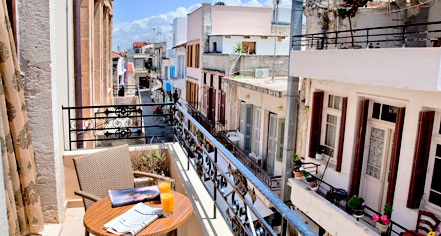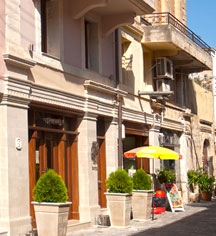 Local Attractions
Cathedral
Dedicated to the Virgin Mary, The Cathedral (Metropolitan) Church of the Holy Metropolis of Rethymnon is a basilica boasting an imposing spire forming a distinct Neo-Classical quadrangle and a stately dome rebuilt in 1956, replacing the original constructed in 1844.
The Fortezza Fortress
The Venetian Fortezza fortress is built on the "Paleokastro" hill, located on the west side of the city. Located on the same hill was the Acropolis of the ancient city of Rithymna along with a sanctuary dedicated to Goddess Artemis. The Fortezza fortress was built between 1573-1580 by the Venetians in order to protect the citizens from the threat of a Turkish invasion. Shaped like a star, the fortress features three gates and six ramparts. The temple of Saint Nicolo has since been converted into the mosque of Sultan Ibraim Han.
The Historical and Folk Art Museum of Rethymnon
Founded in 1973 by Christophoros Stavroulakis and Fani Voyiatzaki, the museum is a beautiful example of architecture dating to the end of the Venetian occupation, around the 17th century. The museum houses collections of woven fabrics, weaving equipment, embroidery, lacework, pottery, baskets, metalwork, coins, costumes, and other significant artifacts. An exhibition on traditional crops and bread-making is also available at the museum.
Nerantze Mosque
Originally the Augustinian Priory, dedicated to the Virgin Mary, the Nerantze Mosque is a Venetian building converted in 1657 during the Turkish occupation. While three domes were added to the structure, the elaborate original entrance remained. The chapel of the Body of Christ, west of the church, was converted into a madrassa, a religions school, at the same time. In 1890, shortly before Crete became an autonomous state, work began on the tallest minaret in Rethymnon with two balconies for the call to prayer. Today, the Nerantze Mosque houses the Municipal Odeon, run by the Association for the Propagation of the Arts.
Rimondi Fountain
Situated in the heart of the old town of Rethymnon, the Rimondi Fountain has offered fresh water to visitors for centuries. Built in 1626 by the Venetian Rector of Rethymnon, A. Rimondi, the fountain boasts three lions heads where the water is run into three basins. Four fluted Corinthian columns with acanthus-leaf capitals support an architrave on which the words Liberalitatis and Fontes can still be read, with the Rimondi coat of arms above the central basin.