Aranwa Sacred Valley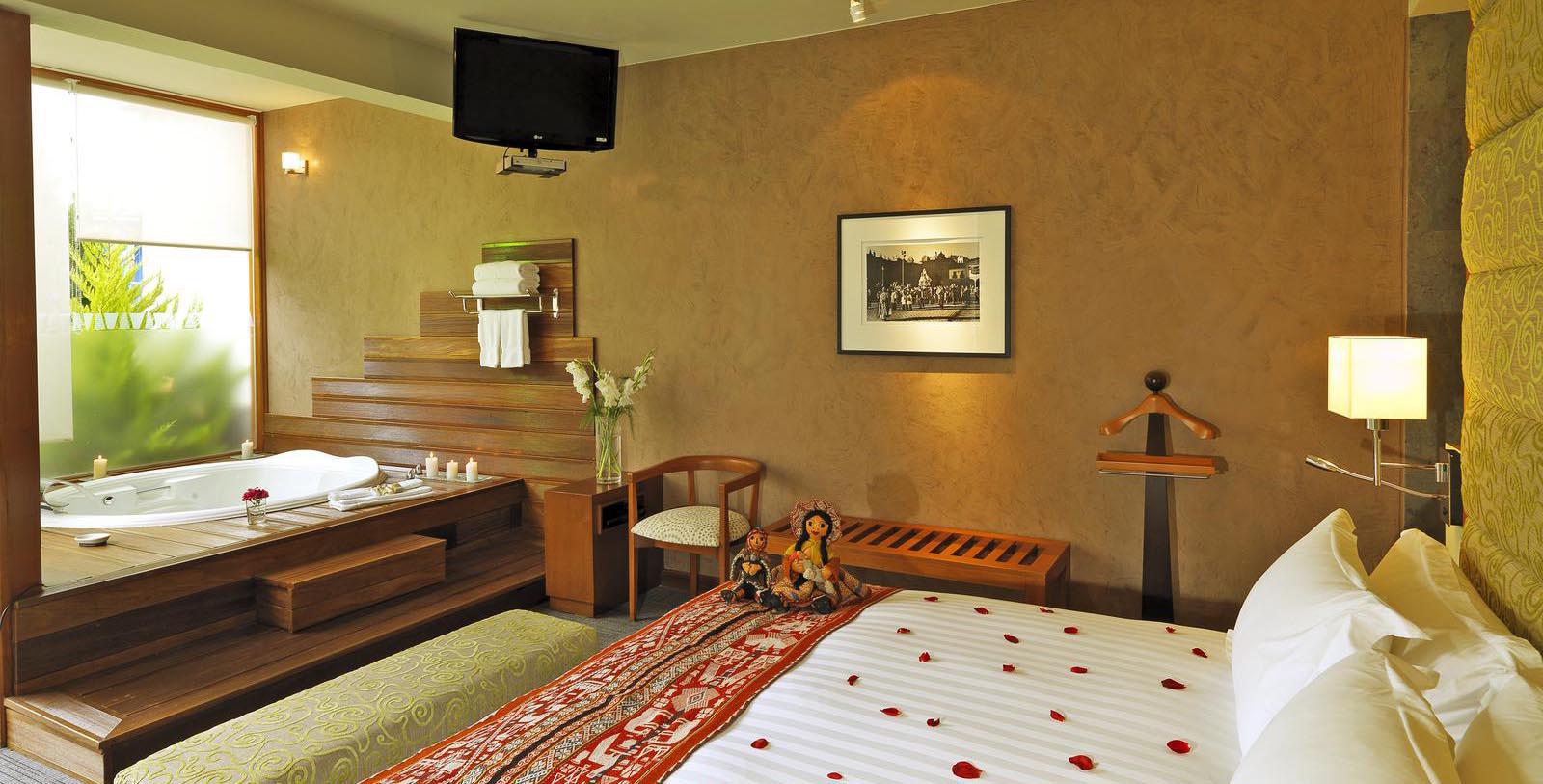 Accommodations
Comprised of 115 guestrooms, including 14 spacious suites, Aranwa Sacred Valley's Urubamba accommodations are a luxurious retreat styled in either Colonial furnishings with antiques, Cuzco School paintings, and gold-leaf plated carvings or modern rooms with minimalist décor.
Located within the Yaravilca Manor and Mansion, Colonial Guestrooms, Junior Suites, and Suites have been restored to combine the elegance of the Colonial era with the brilliant colors of the Andes. In-room decorations include antique furniture, Cuzco school paintings, and some rooms include frescoes on the walls. Views include the inner hacienda patios, outer gardens, and beautiful hotel grounds.
With a private terrace or balcony overlooking the valley mountains, hotel garden, and inland lake, Deluxe Guestrooms feature two queen-size or one king-size bed decorated in a sophisticated minimalist style.
Ideal for a romantic getaway, Riverfront Suites afford views of the Vilcanota river and come complete with a beautiful bedroom, dining room, kitchenette, bath with Jacuzzi, and a living room with a fireplace. The proximity to the spa and wellness center make Riverfront Suites convenient for extended stays.
Located on intimate small private islands surrounding the hotel's facilities with privileged views of the surrounding vegetation and mountains, the three Lake Suites are a decadent escapes, each with individual decorative styles: the coast (Lake Suite), sierra (Cusco Suite), and jungle (Shipiba Suite). Spanning two levels with capacity to accommodate up to six guests, Lake Suites possess two bedrooms, a living room, dining room, kitchenette, and fireplace. The Lima Suite houses a counter-current swimming pool for guests eager to try moderate-altitude sports. The Cusco Suite houses an important collection of Martin Chambi photographs, while the Shipiba Suite brings the decorations of Peru's low-Andean regions into its location.
A journey through the history of Colonial Peru with carvings and Cusco School paintings, as well as modern elements with touches of the Andes themselves, The Presidential Suite is set in a private island within the hotel's inner lake offering guests two bedrooms, Jacuzzi, a living room, dining room, modern kitchen, music corner with piano, guitar and cajon (a typical Peruvian musical instrument), telescope, terrace with a plunge pool, and a basement with a complete area for entertainment, including a pool table, private movie theater, bar, and a room for security personnel and / or nannies.
Aranwa Sacred Valley, a charter member of Historic Hotels Worldwide since 2012, dates back to 1900.