Chablé Resort & Spa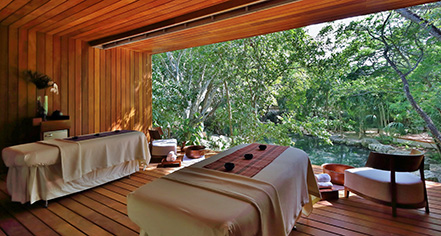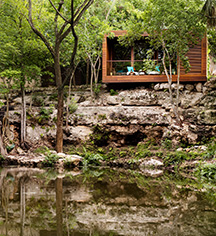 Spa
The natural cenote at Chablé Resort & Spa is the focal point of the healing journey, providing the curative foundations and tranquil setting for a serene spa experience. The spa offers a space where ancient mysticism blends with modern curiosity to bring about a new vocabulary of well-being.
The Chablé Spa provides an intimate setting of tranquility, sophistication, and customization. The setting and elements used in authentic Mayan Ceremony allows for a deep connection and a profoundly moving experience as an initiation into the Chablé Healing Culture.
Surrounded by the Mayan forest, the world-class Chablé Spa is housed in a sacred natural cenote and generously distributed in a space of 32,000 sq. feet (13,000 sq. meters). To extend the benefit of the body and beauty rituals, the Spa Boutique offers Naturopathica and Body Bliss products, considered some of the cleanest and sustainable products available in the spa industry today.
The curated selection of spa treatments are entwined with traditional ritual elements and advanced therapeutic modalities, immediately leading guests into a world of ceremony for the soul and indulgence for the senses. The spa menu is structured to allow guests to create an experience based on each theme and to personalize their spa journey.
"Flow" for a Relaxing & Rhythmical Exploration
The Fountain of Youth, as legend has it, is a spring that restores the youth of anyone who drinks or bathes in its waters. Inspired by this famous fable, Chablé Spa offers an experience of true restoration and renewal. The fountain's Flow ritual draws the healing waters of the cenote into the treatment for a full body, mind, and soul revival.
"Balance" for a Purifying and De-Stressing Experience
As the central concept of Mayan cosmology, the Tree of Life is a sacred symbol representing two remote worlds, Heaven and Earth, united by the Human Being. The Tree of Life honors the quintessential nature of duality in life and portrays the body as a bridge or transitional point between the tangible and intangible worlds. Through these treatments, guests are invited to find a balancing space within, a space where harmony, introspection, and stability reside.
"Inspire" to Practice Heart-Openings and Connections
The Mayan calendars were designed with great accuracy to represent the entire cosmos as interconnected parts, which represented the process of human development and evolution. Practicing Mayan traditions and healing connections, the Chablé Spa team guides the guest into a journey of uncomplicated but sacred teachings about the interconnectedness of life, the simplicity that lives in all things, and the pleasure of healthy living.