Ciragan Palace Kempinski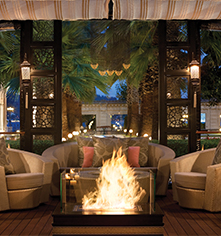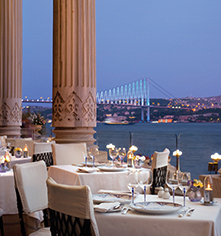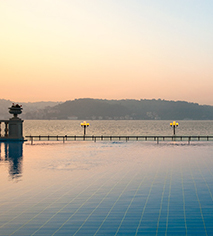 Activities & Events
Exclusive Istanbul Tours
Peel back the layers of Istanbul's history and culture. Cıragan Palace Kempinski's Concierge will be at guests' disposal to book an unforgettable guided tour of Istanbul and its surroundings by land, water, or air along with multilingual professional guides.
The Infinity Pool
While minarets of steam rise around, keep pace with the boats in the Bosphorus alongside in the heated infinity pool throughout the year.
Spa, Fitness Center, and Indoor Pool
Tone up in the fully equipped fitness center, relax in the whirlpool and indoor swimming pool, or indulge in relaxing therapies and treatments in the Spa.
Dining & Wining
Sunday Brunch: Enjoy the culinary delights at the highly popular Sunday Brunch. Kids have fun while tasting the flavors prepared especially for them at the buffets adjusted to their size, baking cookies with the chefs, and playing in the game room with the clown!
Afternoon Tea: Savor the traditional Ciragan Palace High Tea served at Gazebo Loune on a three-tier stand, featuring classic finger sandwiches, scones and an array of afternoon pastries, with its superb location right by the Bosphorus and wide terrace.
Le Fumoir Pavilion: Indulge in a splendid view of the sea and the Anatolian side of the city while sipping a popular cocktail or enjoying traditional hookah in Le Fumoir's summer extension Pavilion surrounded by palm trees and open to the refreshing breeze of the Bosphorus.
Shopping Arcade
Tour the Shopping Arcade located on the hotel building's ground floor for leading brands and Turkish handcraft items. Decide from a variety of distinctive souvenirs, jewelry, Turkish carpets, bouquets, and gifts.
Historical Gallery
Do not miss the Historical Gallery on the corridor that links the hotel to the Palace to learn more about the history of the Palace and gain insight on how life was then, along with photographs collected from Istanbullians. Pay attention to the music played at the gallery, composed by the Ottoman Sultans themselves.
Hotel Floor Galleries
Pay a visit to the hotel building's large elevator landings, which have been turned into "Hotel Floor Galleries" ornamented with original artworks. These private galleries adorned with vibrant and original artwork of Turkey's living legends and valuable international artists consist of pieces from masters that the The Cıragan Palace Kempinski Art Gallery has showcasing since its opening in May 2007.