Ciragan Palace Kempinski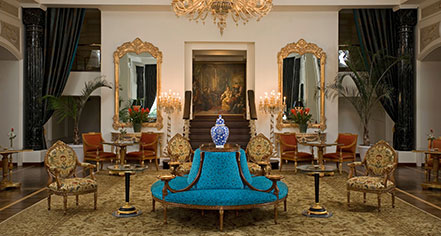 History
The story of the Cıragan Palace Kempinski Istanbul begins over three hundred years ago when the area that now surrounds the present day hotel was known as the "Kazancıoğlu Gardens" at the beginning of the 17th century. The first known structure was a mansion that belonged to Admiral Kılıç Ali Pasha. A hundred years later, in 1719, Damat İbrahim Pasha of Nevşehir, the Grand Vezir built a summer mansion here for his wife, the daughter of Sultan Ahmet III.
In the early 19th century, Sultan Mahmut II rebuilt the area that, by then, had a mosque, a school, and a Mevlevi lodge. The summer villa was demolished and replaced by the first sultan's palace. By 1857, however, Sultan Abdülmecid had decided to build a new palace and the existing structure was demolished. Unfortunately, the Sultan's life came to an end before his plans were completed, leaving his wishes to be carried out by his brother, Sultan Abdülaziz. The Cıragan Palace was completed in 1871, "Çirağan" meaning "light spreading" in Persian, inspired by the extravagant entertainment which the area was, by then, famous for, the "Cıragan Festivals." In the following years, the Palace became the Sultan's residence, and following his death, that of Sultan Murat V.
In 1869, during the reign of Sultan Abdülaziz, one of the hotel's first celebrity guests, the Empress Eugenie de Montijo of France, the wife of Napoleon III, visited the Turkish bath of the new Cıragan Palace on her way to open the Suez Canal; an unofficial legend speaks of a love affair between her and the Sultan. The Palace also hosted the opening of the Ottoman parliament with a great ceremony after the announcement of the Constitutional Monarchy II, following the reign of Sultan Abdülhamit II.
The building of the Palace into a hotel was talked about in 1930s but it stayed unkempt for long after the big fire in 1910. Little was done and the area lay virtually abandoned, at one time serving as a soccer field, until the 1990s. Finally, in 1992, after a complete restoration and the construction of a modern hotel that, in design complements and celebrates the historic Palace, the Cıragan Palace Kempinski İstanbul opened to great acclaim. It was renovated in 2007 to further enhance the historic property's magnificent character and elegant style.

Ciragan Palace Kempinski, a charter member of Historic Hotels Worldwide since 2012, dates back to 1867.