Copper and Lumber Store Historic Inn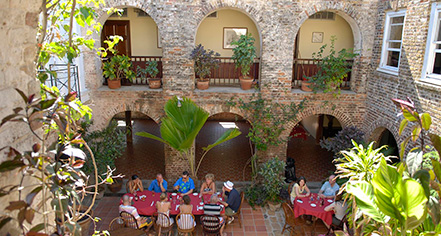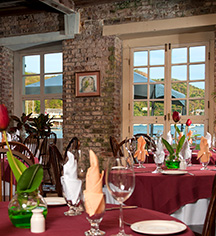 Dining
There is a splendor and magnificence to Nelson's Dockyard National Park that has thrilled the millions who have journeyed to Antigua to experience paradise. At the center of the Dockyard stands the Copper and Lumber Store Hotel and Restaurant. It is more than a modern day masterpiece of restoration.
The doors of the restaurant open onto the dockside of the Dockyard, where some of the most expensive yachts berth during the year. This charming courtyard restaurant blends Caribbean romance with a European flair for an astonishing setting of intimacy for dinner.
Its stony architecture, held together by huge wooden beams, keep the inside fresh, cozy, and relaxing - perfect for breakfast and lunch. The lunch menu includes grilled chicken, lightly glazed with balsamic honey, sitting against a julienne of vegetables and the staff recommended grilled mahi-mahi.
Join us for Seafood Fridays when diners gather on the lawns to sample delicious seafood every Friday evening. People visit from all over the world to pour into Nelson's Dockyard for a night of delicious seafood in an atmosphere that has proven unmatched and veritably impossible to replicate.
For couples who want to enjoy a romantic evening, a candlelight dinner under the stars on the dockside can be arranged. Please book in advance.