Cures Marines Trouville Hôtel Thalasso & Spa-MGallery by Sofitel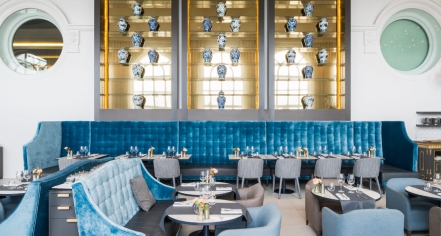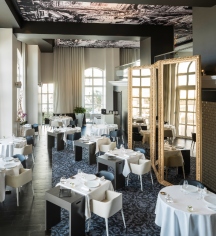 Dining
Le 1912
A Michelin-starred restaurant, Le 1912 is headed up by Chef Johan Thyriot, whose passion acts a brilliant muse for his food. As a result, the cuisine is authentic, doing away with unfulfilling artificial flavors. Inspired by both the riches of the English Channel and verdant farmlands of Normandy, guests can enjoy Chef Thyriot's world-class cooking inside this majestic, seaside dining establishment.

Wednesday - Sunday, 7:00 p.m. - 9:30 p.m.


Ephemer
Ephemer combines a creatively balanced menu of fresh, local produce for both lunch and dinner. This delightful brasserie is an excellent place to eat, with its fluid menu of high-quality regional fare.

Lunch: Monday - Saturday, 12:30 p.m. - 2:30 p.m.
Dinner: Daily, 7:00 p.m. - 9:30 p.m.


Le Bar D'Eugène
Come relax within the convivial atmosphere of Le Bar D'Eugène. At this vibrant bar, guest relish a savory aperitif while selecting from its wonderful menu of light fare. With amazing views of the coast and promenade, Le Bar D'Eugène is a fantastic place to unwind after a long day.

Daily, 12:00 p.m. - 12:00 a.m.