Dalen Hotel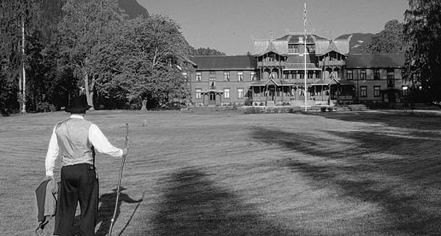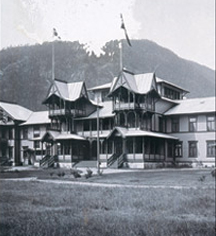 History
The Beginning
Dalen Hotel is in the middle of Telemark's valley near the historic Telemark Canal. When the canal opened in 1892, it was the shortest route between the two cities of Oslo (then Christiania) and Bergen. At the time, Norway was an exotic destination that attracted many tourists. Spotting a need for a luxury hotel to accommodate wealthy travelers, Hans Larsen, Lars Red and Anton Hansen collaborated with renowned architect Haldor Larsen Børve to build the opulent Dalen Hotel, which opened its doors in 1894.
Børve, a German-educated architect versed in Swiss style, designed the castle hotel based on inspiration drawn from traditional medieval stave churches. Dalen Hotel is adorned by opulent details like dragonheads and soaring spires. The hotel's grandeur and imposing presence drew royal guests and luminaries like King Oscar II of Norway and Sweden, the King of Siam, Emperor Wilhelm of Germany and King Leopold of Belgium, King Haakon VII, Queen Maud, and Crown Prince Olav. The royal guests loved to waltz in Dalen Hotel's lavish halls.
World War II
Dalen Hotel fell upon hard times during World War II. The German occupation forces took over the hotel and much of the original interior was damaged, stolen, or lost. The hotel wasn't maintained after the war, and the once-grand hotel fell into a state of disrepair and gloom before it eventually closed. Some villagers suggested it would be more dignified to set fire to the property than to let it slowly rot away.
The Rebirth
Dalen Hotel eventually met its champion. The preacher Aage Samuelsen had faith in the future of the Telemark valley, and he bought the hotel. While he wasn't able to restore it during his life, he drew invaluable attention to the hotel. After his death, there was renewed interest in returning the once-grand property to its regal state, and talks of restoration and preservation began.
After early golden days and later years of decay, the hotel was fully restored to its original beauty. It once again opened its resplendent doors to guests in 1994. Now, Dalen Hotel has the same soul, beauty, craftsmanship, and ambiance as the wooden castle that first opened more than 110 years ago.
Dalen Hotel, a charter member of Historic Hotels Worldwide since 2012, dates back to 1894.