Digby Pines Golf Resort and Spa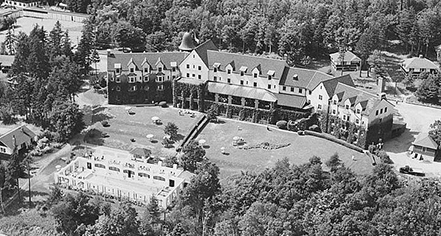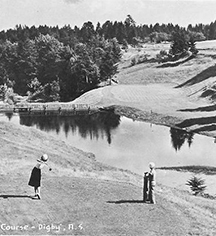 History
Mr. H.B Churchill, the proprietor of Churchill Livery, built a three-story hotel in 1904 for $28,000 on the Viets property, and named it "The Pines." His hotel included all of the modern conveniences of that time, including running water and electricity. The Pines put on dances, baseball games, and other entertainment.

In 1913, Mr. Churchill gave up operation of the hotel in 1913 and the building was converted for use as a WW1 officers quarters for army personal including 237th American Legion, the 4th Pioneer Battalion and the 209th Battalion. The officers stayed in the hotel while their men camped on the hotel's campus.

Four years later, The Canadian Pacific Railway Company purchased the hotel, reopening the property in 1918 with the addition of cottages and new management. In 1928, construction of "The New Pines Hotel" began next to the original Pines and on June 22, 1929, the French Norman Style building opened. That same year, the Canadian Pacific Railway Company purchased 250 acres of land, which would be turned into an 18-hole golf course. The course was rated 68 out of the top 100 Golf Courses listed in the Globe Golf Publication in 2005. With the arrival of World War II, the New Pines Hotel closed its doors in 1942, reopening four years later.

In 1965, the Nova Scotia Provincial Government bought the hotel from the Canadian Pacific Railway Company and renamed it "The Pines Resort." Forty years later, the property officially became the "Digby Pines Golf Resort and Spa."
Digby Pines Golf Resort and Spa, a member of Historic Hotels Worldwide since 2014, dates back to 1905.