Fairmont Banff Springs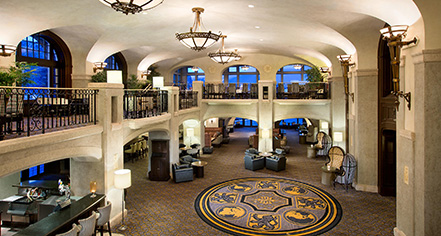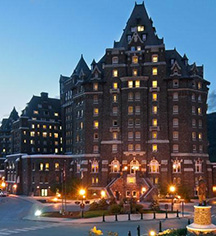 History
The Fairmont Banff Springs has been a shining example of Canadian hospitality from its inception. William Cornelius Van Horne, the General Manager of the Canadian Pacific Railway, recognized the tourism potential of the Canadian west and believed that traffic on the Canadian Pacific Railway needed to be increased. To accomplish this, he decided to build a succession of lavish luxury resort hotels along the rail line through the Rocky and Selkirk Mountains.
Horne commissioned blueprints for an impressive hotel that would be situated at the convergence of the Bow and Spray rivers. Construction of the hotel began in 1887. In 1888, the Fairmont Banff Springs opened to the public. It quickly became one of the top three mountain resort getaways in North America. From 1900 to the 1920s, several adjustments were made in order to update the hotel and its offerings to keep its longstanding status. However, in 1926, a fire destroyed the original wooden hotel. Instead of seeing it as a setback, the hotel was rebuilt larger and better, with the current façade it displays today.
Even though most people suffered tremendous financial loss in the 1920s due to the Great Depression, the Fairmont Banff Springs survived. People decided to live life to the fullest, continuing to visit and vacation at the hotel despite the uncertain future. World War II was not so easy on the hotel. Travel restrictions were placed on North Americans and Europeans, forcing the hotel to close its doors in 1942. It would not reopen until the war ended in 1945.
Though it took most of the 1950s and 1960s to reclaim its former status as one of the greatest resort getaways in the North Americas, the war had not completely ruined the hotel's charm. Significant changes to the hotel, which adapted it to the economics of the era, provided it with new life. A pivotal point came in the 1970s, as this was the when the Fairmont Banff Springs began to stay open year-round, offering guests a bevy of new winter activities. In the 1980s, more renovations and expansions were done, providing guests with the most updated accommodations and amenities of the time.
In the 1990s, Ted Kissane became the manager of the Fairmont Banff Springs, restoring the majestic hotel and giving it the nickname the "Castle in the Rockies." Another expansion came with the addition of the Banff Springs Conference Center, and the hotel was soon declared a national historic site by the Canadian government.
With over 100 years in hospitality, the Fairmont Banff Springs staff are trained in exceptional service and excellence. Its proven track record is the proof. The rebirth of the hotel time and again has provided guests with an incomparable access to the beauty of the Canadian mountainside and all it has to offer.
Fairmont Banff Springs, a member of Historic Hotels Worldwide since 2018, dates back to 1888.