Fairmont Empress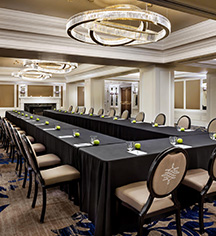 Meetings & Groups
To manage the expectations of a large city such as Victoria, Fairmont Empress offers 23,000 square feet of meeting space across 22 rooms. State-of-the-art services, audiovisual technology, expert event planners, and comprehensive catering, is the specialty at Fairmont Empress. The hotel features Victoria's two largest ballrooms, a dedicated boardroom, and executive meeting space with harbor views. The Fairmont Empress never fails to impress.
In the midst of a historic renovation, the hotel is being restored to all its glory, and the meeting spaces are part of that. They have received a makeover, updating rooms with designs inspired by the natural beauty of Vancouver Island, while modernizing the facilities with high quality audiovisual equipment while maintaining historic details.
Whether hosting a meeting of 12, a professional conference, or product launch for 1,500, the Fairmont Empress has the professionals on hand to organize, plan, and oversee the crucial details to make every event a success.
Event Space Chart
| | | | | | | | | |
| --- | --- | --- | --- | --- | --- | --- | --- | --- |
| | | | | | | | | |
| Crystal Ballroom | 4560 | 98 x 48 ft | 200 | 450 | 320 | 500 | 70 | 50 |
| Palm Court | 2156 | 49 x 43 ft | - | - | 80 | 200 | - | - |
| Shaughnessy Ballroom | 3542 | 92 x 35 ft | 60 | 140 | 180 | 225 | 40 | 30 |
| Rattenbury | 3706 | - | - | 125 | 170 | 300 | 50 | 50 |
| Rattenbury A | 2161 | - | 40 | 88 | 110 | 220 | 32 | 20 |
| Rattenbury B | 1545 | - | 36 | 70 | 60 | 60 | 22 | 22 |
| Bengal Room | 1784 | - | - | - | - | 100 | 100 | - |
| Rose Garden | - | - | - | - | - | 400 | - | - |