Fairmont Hotel Vancouver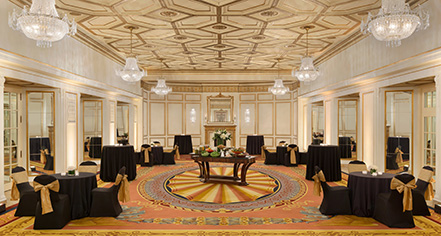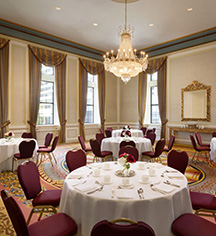 Meetings & Groups
Fairmont Hotel Vancouver is the ideal venue for large or small groups. Facilities on-site include two grand ballrooms and 22 function rooms across 63,000 square feet of flexible space. With rooms that can fit a meeting of 12 or a conference of 1,000, an event at the Fairmont Hotel Vancouver's spaces provide clients with plenty of space and a dedicated in-house events team. State-of-the-art audiovisual services are provided by PSAV, and clients can create custom catering menus with food provided by staff at Fairmont Hotel Vancouver. Each room in the hotel offers high-speed Internet access including WiFi, ADSL, and Ethernet capabilities. The hotel's flexible meeting rooms, dedicated boardrooms, hospitality suites, and magnificent ballrooms feature natural light that will inspire creativity among attendees. Located in the center of downtown Vancouver, the Fairmont Hotel Vancouver is a seven-minute walk from the Vancouver Convention & Exhibition Centre, making it an ideal conference hotel.
The Boardroom
Decorated with a sense of grandeur, this 18-foot ceiling room features an opulent crystal chandelier, beautiful drapery, and Palladian windows. The Boardroom seats up to 130 meeting attendees comfortably.
British Colombia Ballroom
The sunken British Columbia Ballroom offers 5,500 sq. ft. of event space, recessed ceilings, large chandeliers, hand decorated carpets, and molding trimmed walls. This space is suitable for up to 1,500 guests.
Pacific Ballroom
The Fairmont Hotel Vancouver's most elaborate event space, the Pacific Ballroom, features 23-foot high ceilings, elegant crystal chandeliers, cast moldings, gold and silver leafed ceilings, and soaring windows. Recently updated with state-of-the-art sound and power, this room can hold up to 1,000 guests.
Vancouver Island Room
This ornate room features gold leafed ceilings, four sets of French doors, and marble floors. The Vancouver Island Room adjoins the Pacific Ballroom foyer and the British Columbia Ballroom.
The Roof
Located on the 15th floor, The Roof is a 5,200 sq. ft. event and meeting space. The room is lined with floor to ceiling windows, granting views of the city of Vancouver. This one-of-a-kind location is perfect for groups of 200 for dinner or 300 for a reception.
Event Space Chart
| | | | | | | | | | |
| --- | --- | --- | --- | --- | --- | --- | --- | --- | --- |
| | | | | | | | | | |
| British Room | 5,400 | 100 x 54 ft | 275 | 700 | 500 | 800 | 80 | 108 | 126 |
| Columbia Room | 5,700 | 100 x 57 ft | 275 | 700 | 500 | 800 | 80 | 108 | 126 |
| BC Ballroom | 11,400 | 100 x 114 ft | 600 | 1,500 | 1,000 | 1,500 | - | - | - |
| Pacific Ballroom | 6,900 | 128 x 58 ft | 450 | 750 | 550 | 1,000 | 100 | 138 | 168 |
| Vancouver Island | 2,500 | 80 x 31 ft | 130 | 250 | 200 | 300 | 50 | 75 | 84 |
| Waddington | 2,000 | 59 x 34 ft | 100 | 200 | 150 | 200 | 40 | 60 | 70 |
| Boardroom | 1,224 | 36 x 34 ft | 60 | 130 | 90 | 150 | 32 | 36 | 48 |
| Tweedsmuir | 570 | 26 x 22 ft | 24 | 50 | 40 | 50 | 22 | 22 | 28 |
| Garibaldi | 530 | 24 x 22 ft | 24 | 50 | 40 | 50 | 22 | 22 | 28 |
| Lions | 310 | 22 x 14 ft | - | 20 | 20 | 20 | 12 | - | - |
| Burrard | 190 | 19 x 10 ft | 8 | - | 8 | - | - | - | - |
| Hornby | 245 | 20 x 10 ft | 10 | 10 | 10 | 10 | - | - | - |
| Saturna Island | 3,800 | 104 x 36 ft | 180 | 350 | 270 | 325 | 70 | 80 | 90 |
| Cortes Island | 722 | 19 x 38 ft | 30 | 50 | 60 | 70 | 25 | 25 | 30 |
| Galiano Island | 700 | 18 x 25 ft | 20 | 40 | 40 | 60 | 20 | 20 | 24 |
| Gabriola Island | 450 | 18 x 25 ft | 20 | 40 | 40 | 40 | 20 | 20 | 24 |
| Moresby Island | 650 | 18 x 25 ft | 20 | 40 | 40 | 60 | 20 | 20 | 24 |
| The Roof | 5,200 | 80 x 40 ft | 50 | 100 | 200 | 300 | 28 | 30 | 32 |