Fairmont Le Château Frontenac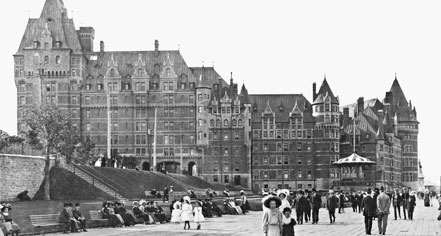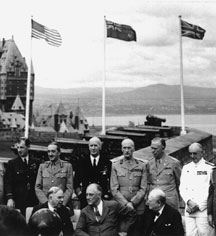 History
Fairmont Le Château Frontenac, who will celebrate its 125th anniversary in 2018, is located next to the federal government land of archaeological site Château St. Louis, the original seat of the French government in North America.
From here, the 1600s Colonial governor oversaw operations stretching from Louisiana to the Great Lakes. The original building burnt to the ground in 1834, and was not rebuilt for 60 years until the original portion of Château Frontenac was constructed.
Originally designed as the ideal stopover for railway travelers, Fairmont Le Château Frontenac was built by general manager of Canadian Pacific (CP) Railway William Van Horne in the late 19th century. With the help of New York architect Bruce Price, designer of Montreal's Windsor Station and father of Emily Post, Van Horne drew inspiration from the architectural styles of the Middle Ages and the Renaissance.
Renovation and expansion remained steady until 1993, refining the luxury historic hotel into what it represents today, including the Citadelle construction in 1899, Mont-Carmel construction in 1908, and the Saint-Louis and Tour Centrale in 1920 and 1924. A new expansion phase was completed in June 1993 with the inauguration of the Claude-Pratte Wing, which offers guests a superb indoor pool, a physical fitness center, and a magnificent outdoor terrace. A major renaissance project is conducted in 2014 to reposition this icon as one of the best hotels in the world.
Named after flamboyant French governor Louis de Buade, Count of Frontenac, Fairmont Le Château Frontenac's coat-of-arms can be seen on the outside wall of the entry arch and many other areas within the hotel. History casts a long architectural line: a 300-year-old stone bearing the Cross of Malta emblem is among the interior stones located throughout the hotel's vaulted lobby.
Countless personalities have graced Fairmont Le Château Frontenac with their presence. Altogether, each decade brought the Château Frontenac its share of prestigious patrons.
For more than a century, Fairmont Le Château Frontenac luxury hotel in Québec City has been the true-life castle of many people's dreams. Everyone from the young to the old, music to film stars, sports personalities to political figures, enjoys discovering this unique Québec City luxury resort and delights in returning again and again.
Fairmont Le Château Frontenac, a member of Historic Hotels Worldwide since 2012, dates back to 1893.