Fairmont Peace Hotel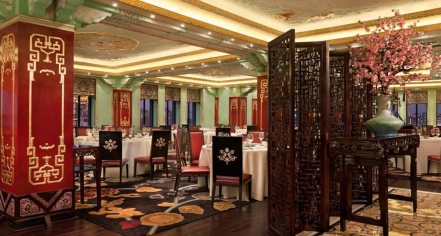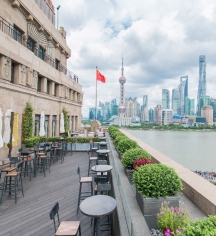 Dining
Guests of the Fairmont Peace Hotel can enjoy an exceptional dining experience in any of the five dining locations at the hotel.
Dragon Phoenix
Dragon Phoenix has a menu compromised of quintessential Shanghainese and Cantonese cuisine for both lunch and dinner. This nostalgic, impressive venue is a mix of classical luxury and style that suits everyone from business associates to families with children.

Lunch: 11:30 a.m. - 2:30 p.m.
Dinner: 5:30 p.m. - 10:00 p.m.


The Cathay Room
The sociable Cathay Room features European style cuisine with views overlooking the Bund. It has been in the meeting place of choice for high society since the 1920s and has a wine list with over 200 labels presented by the on-site wine sommelier.

Lunch: Monday through Saturday, 12:00 p.m. - 2:30 p.m.
Dinner: Daily, 6:00 p.m. - 10:30 p.m.
Brunch on the Bund: Sunday, 11:30 a.m. - 2:30 p.m.
Terrace: 12:00 p.m. - 10:30 p.m. (seasonal)


The Jazz Bar
The legendary Jazz Bar at Fairmont Peace Hotel is reminiscent of the 1920s and 1930s, with comfortable, authentic décor. European and local dishes feature on the menu, along with a timeless cocktail list, inspired by the original menu. The Jazz Bar also features a live band made up of six veteran musicians who have played for several U.S. Presidents and Chinese dignitaries.

Daily, 6:00 p.m. - 2:00 a.m.
Jazz Band: Daily, 6:30 p.m.


Victor's Café
Guests seeking a quick, informal sweet bite to eat can stop by Victor's Café for hand-crafted pastries, cakes, and coffee.

Daily, 10:00 a.m. - 10:00 p.m.


Jasmine Lounge
The hotel offers Afternoon Tea in the Jasmine Lounge, as well as evening cocktails. The lounge also serves a buffet breakfast daily.

Buffet Breakfast: Monday through Sunday, 6:00 a.m. - 10:30 a.m.
Afternoon Tea: Monday through Sunday, 2:00 p.m. - 5:30 p.m.