Festningen Castle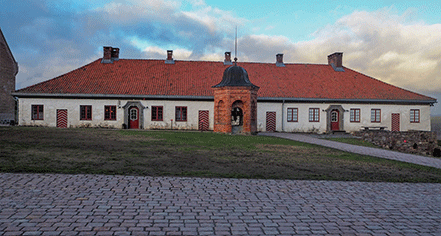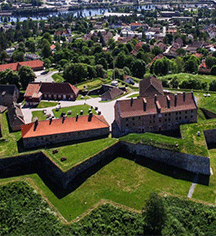 History
Festningen Castlet is a quaint vacation getaway that occupies a small portion of the Kongsvinger Fortress. Originally established in the late 1600s, this impressive stronghold served as an integral part of Norway's national defense system for hundreds of years. It sits atop a hill that overlooks the ancient Viger Royal Road, which twists and turns through the surrounding Glomma River basin. Countless merchants and pilgrims have traveled along this pathway throughout the course of Norway's history as it provided one of the only direct routes from the Swedish border to Oslo. But its significance as a major commercial highway also inspired marauding armies to constantly fight over it. Many generals found that the present site of the Kongsvinger Fortress was the perfect place to control access to the road due to its commanding views of the local countryside. As such, the spot became the location of many pitched battles. From foreign invasions to localized civil wars, warriors from across Scandinavia frequently clashed around the hilltop throughout the Middle Ages.
Norwegian administrators finally decided to create a permanent fort on the hill following a short, yet ferocious, conflict between Sweden and Norway called the Torstenson War. As a skirmish in the much larger Thirty Years' War, Sweden launched an invasion of its neighbor under the impression that it's military might was of a superior quality. While Norway managed to repulse the Swedes with the help of Denmark (with whom it was united by a royal marriage) and the Holy Roman Empire, its rulers left the fight realizing that they needed to bolster the country's network of fortifications. Shortly thereafter, the construction of a massive stone fortress quickly began along the Viger Royal Road starting in 1673. The Norwegians subsequently expanded the structure after the conclusion of another war with Sweden that raged from 1675 to 1679. This new renovation transformed the appearance of the fort to resemble the shape that it currently features today.
For the next three centuries, the Kongsvinger Fortress would dominate any attempt by an opposing army to cross the Viger Royal Road. At the height of the Great Northern War, an army under King Charles XII of Sweden avoided the bastion in favor of besieging the nearby Basmo Fortress. And nearly a hundred years later, the citadel helped stall yet another attack on Norway during an episode of the Napoleonic Wars. A column of Swedish soldiers marched against the Kongsvinger Fortress in 1808, only to stop at the banks of the neighboring Glomma River. The force never invaded the fortress, and eventually withdrew from the area. More recently though, the fortress has operated as an incredibly popular tourist attraction, with the Festningen Castle opening at the location in 2004. Now protected as a heritage site by Norway's Directorate for Cultural Heritage, the entire fortress complex is one of the country's most cherished national landmarks.

Festningen Castle, a member of Historic Hotels Worldwide since 2019, dates back to 1673.