Fjaerland Fjordstove Hotel & Restaurant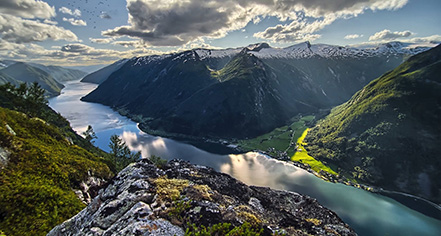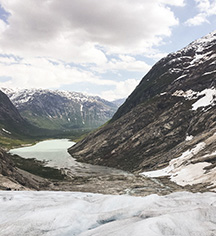 Local Attractions
Tucked away within the verdant wilderness of Sognefjord, the Fjærland Fjordstove Hotel & Restaurant is situated perfectly for guests to immerse themselves in the natural beauty of Norway. The bucolic village of Fjærland encapsulates the rich heritage of the region, with its variety of quaint, historical buildings and landmarks. This picturesque community is surrounded by the stunning Western Norwegian Fjords, which constitute a beautiful UNESCO World Heritage Site. In particular, visitors have been drawn to the Jostedalsbreen Glacier—the largest of its kind in all of continental Europe. Additional attractions proliferate throughout the area as well, including the Norwegian Glacier Museum and several historical structures connected to the country's famous Viking Age. As such, the Fjærland Fjordstove Hotel & Restaurant is a great place to explore this amazing culture first-hand.
The Norwegian Booktown
The Norwegian Booktown is located in Mundal, which is the center of Fjærland. Founded in 1995, the site consists of various second-hand bookshops that extend for more than two miles. These amazing storefronts are particularly unique as they occupy former n barns, boat houses, and other historical structures.
Norwegian Glacier Museum
The Norwegian Glacier Museum is renowned throughout Norway for its expertise on glaciers and the environment. Open seasonally, this stunning museum features many exciting exhibits, including a panoramic film of the ancient Jostedalsbreen Glacier.
Astruptunet Museum
Once home of the Norwegian artist Nikolai Astrup, the Astruptunet Museum is a thrilling contemporary art institution that pays homage his artwork. This fantastic museum features an extensive selection of paintings that Astrup created while living at the building during the early 20th century. Some of his artwork includes depictions of several local landmarks in the area, such as Jølstravatnet at Sandal in Jølster in Sogn og Fjordane.
Kaupanger Stave Church
During the Middle Ages, many architects throughout Norway constructed stone cathedrals that were inspired by Viking ingenuity. Using methods derived from their ancestors' construction of seafaring boats, this generation of Norwegian's raised countless churches that featured unique wooden staves. The nearby Kaupanger Stave Church is the largest of these historic churches in Sogn og Fjordane county still standing today.
Urnes Stave Church
Nestled within the nearby community of Luster, the Urnes Stave Church is another historical structure featuring the unique Norwegian wooden-stave architecture. Raised during the 12th century, the building now listed as a UNECO World Heritage Site.