Fossheim Turisthotell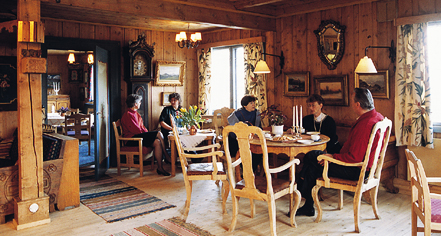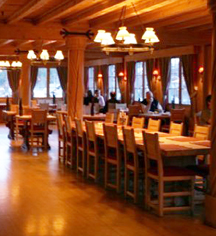 Dining
With seating for up to 100 guests, the dining room is open for dinner every day serving several courses of traditional cuisine modified according to the season. With many years of experience, chefs Kristoffer Hovland and Ståle Johansen translate their skills into creative and comforting plates with a focus on integrating local ingredients harvested from surrounding farms, lakes, and mountains. Local foods have become widely popular within Norway, and the local mountains of Lom provide easily accessable exotic flavors.
During the Christmas season, the unforgettable Norwegian julebord, or Christmas table, is served for a festive meal. This is a large buffet filed with Norwegian Christmas specialities like "lutefisk", "rakefisk" and "pinnekjøtt".
As a self-taught wine enthusiast, manager Svein Garmo has arranged and collected the finest wines at Fossheim's impressive wine cellar to complement the chefs' creations. Wine tastings are available throughout the year.
Above the dining room, on the second floor, the whimsical Peisestugu living room boasts a large fireplace and library with books the Garbo family has collected over the years. The intricate old interiors invite a gracious atmophhere ideal to enjoy a book or glass of wine. Adorned with old portraits and prints, Peisestugu exhibits the rich history of Fossheim.

Before christmas we present our famous Norwegian "julebord". This is a large buffet filed with Norwegian christmas specialities like "lutefisk", "rakefisk" and "pinnekjøtt".
The Herbal Garden/Urtehagen
Serving small meals, the Urtehagen is a romantic outdoor garden built on several levels and seating areas creating a charming dining setting. Various herbs and plants used in the dishes at Fossheim surround the dining area exhibiting a very literal farm-to-table display.