Fretheim Hotel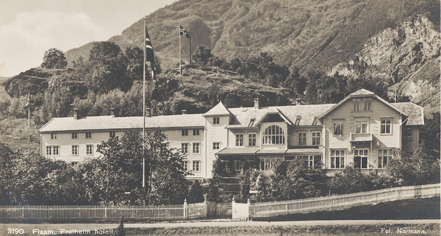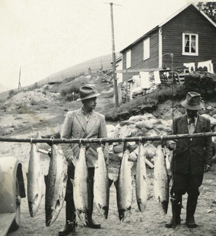 History
In 1870, Lord Wigram's intuition to lease out fishing rights for the Flåmselva river proved to be strong, as an influx of foreign tourists began to visit Flåm to try their luck at angling. Many wealthy Englishmen were also lured by the large salmon and trout population, often staying long term at the farm of Christen Fretheim, the richest man in the village.
Due to the overwhelming interest and praise for the hospitality on the farm, Christen Fretheim decided to convert the property into a hotel designed to cater visiting English fishermen. The popularity of the hotel inspired local villagers to refer to it as the English Villa. At the turn of the century, business was booming and Christen's cousin, Marthe Fretheim, came to assist in managing the property. A valuable resource and known for her warm hospitality, Marthe was responsible for the hotel's renowned garden that continues to inspire guests today. When Christen died in 1916, Marthe remained as the sole manager of Fretheim Hotel until her death in 1933, when her niece and nephew gained control, taking great care to ensure the comfort of guests.
Over the decades, Fretheim Hotel experienced varied developments, even briefly renamed to Langseth Hotell, until 1999 when Aurland Ressursutvikling AS took over operation. An addition of a new wing and restoration on the historic facade and guestrooms was completed in 2000, offering new elegant lounges, conference facilities, and an impressive library. The extensive restoration project allowed the guestrooms to remain authentic with antique furniture, including claw-foot bathtubs and large fireplaces.
Fretheim Hotel, a charter member of Historic Hotels Worldwide since 2012, dates back to 1870.