Grandhotel Giessbach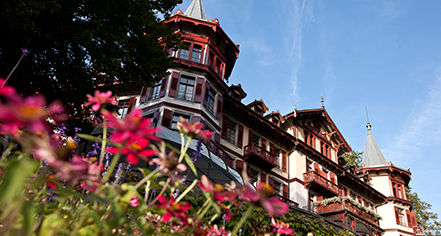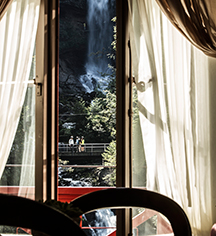 Local Attractions
Village Brienz
The picturesque village of Brienz lies in a delightful mountain setting at the eastern end of the turquoise Lake Brienz. Brienz is famous for its long tradition of woodcarving, where today it boasts a woodcarving and a violin-making school, which visitors can explore.
Ballenberg - Open Air Museum
This open-air museum illustrates the rural life in Switzerland of treasured times. With a total area of 66 hectares, the museum displays over 100 rural historic houses from all over Switzerland, complete with 250 farmyard animals, historic gardens and fields, as well as demonstrations of typical crafts to create a vivid impression of the era. Upon request, the Giessbach hotel bus can transport guests to the western entrance of the museum.
Steam Train to Mount Rothorn
This nostalgic steam cog railway climbs to the top of the mountain "Brienzer Rothorn" in one hour. Visitors will pass through flowered meadows, dark woodland, and lush alpine pastures as the steam train travels up 7.6 kilometres of towering rock faces and jagged ridges. Once atop Mount Rothorn, visitors will enjoy the perfect view of the village of Brienz, the emerald lake, and the Bernese Alps. Start in Brienz at 570 m, finish at the Brienzer Rothorn at 2350 m.
Steam Boat
The nostalgic paddle steamer "Lötschberg" is the jewel of Lake Brienz. Experience the romance of past times on the Belle Epoque steamer, which has been faithfully renovated and restored. It is perfect for events, company occasions, banquets, cocktails, and evening trips. In 2008, the International Council on Monuments and Sites (ICOMOS) awarded it a special distinction for the painstaking restoration of the steamer in accordance with the strictest principles of monument preservation.
Interlaken and Jungfrau Region
The world-famous mountains Eiger, Mönch, and Jungfrau are just a stone's throw from Giessbach. The Sphinx observation hall and terrace, the glittering Ice Palace, a walk on the eternal snows of the Jungfrau plateau are just some of the amazing attractions one can enjoy all the year round on the Jungfraujoch, the Top of Europe! At the bottom, visitors can explore Interlaken, one of the most celebrated towns in the Bernese Oberland and especially well-known for its excellent shopping.