Gregans Castle Hotel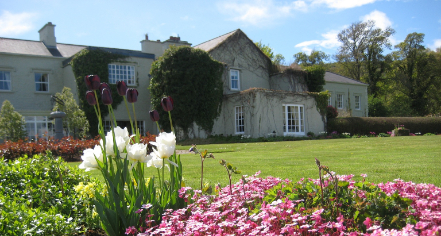 Overview
At Gregans Castle Hotel, legends of battling clans and romantic poets reappear in the thick mists of this luxurious hotel hidden in the heart of Ireland's Burren. The views of Galway Bay gracefully sweep guests to a mysterious world where limestone mountains of the Burren unfold before heather-dappled glens, and roaring turf fires create timeless splendor. Rugged unspoiled beauty, rare wildflowers resting on the edge of jagged cliffs, and a favorite Irish tune sung nearby are what begins the finest and very warmest stay at Gregans Castle Hotel, an 18th-century country house set within the unusual landscape of Ireland's Burren.
Known for its legendary Irish hospitality, the Gregans Castle Hotel ranks as a treasured gem among Irish hotels. This historic 18th-century mansion welcomes guests by scenic roads, and extraordinary views of Galway Bay and the Burren abound from this luxurious resort, showcasing the layered limestone hills with their hidden glens that are steeped in treasured heritage. Here, in this quiet landscape, Gregans Castle Hotel has served as a sanctuary for bird watchers, botanists, and Hollywood luminaries like Sharon Stone, Ewan McGregor, and Kathy Bates.
Decades of careful restoration continue to reflect what the original occupants may have only envisioned: a landmark country house that remains true to its enduring legacy. With endless accolades – Georgina Campbell's Hotel of the Year Award and AA 3 Rosettes for Culinary Excellence – the historic Gregans Castle Hotel continues to capture guests' imaginations.
Gregans Castle Hotel, a charter member of Historic Hotels Worldwide since 2011, dates back to the 18th Century.
Writers J.R. Tolkein and C.S. Lewis often visited then owner Frank Martyn and stayed at Gregans Castle during the 1950s and it is believed that The Burren was part inspiration for the Lord of the Rings trilogy.

Original Property Opened: 18th Century
Historic Hotels Worldwide toll-free reservations number +1 866 670 3764

Location
Corkscrew Hill
Ballyvaughan, Co Clare H91CF60
Ireland

Check-in time: 2:00 p.m.
Check-out time: 12:00 p.m.



Hotel Amenities & Policies
Accessible Rooms: Accessible rooms are available. Please notify request at time of booking.
Age Requirements: Guests are required to be 18 years or older with photo identification to reserve a room and check-in.
Cribs and Pack-in-Plays: Available upon request.
Early Check-In/Late Check-Out: Available, depending upon availability.
Extra Person Fees: Extra-person charges may apply and vary depending on property policy.
Parking: Self-parking: Available. Valet parking: Available.
Payment: All forms of payment are accepted. Payment is required at time of booking. Visa, MasterCard, Amex, Diners Club, and JCB are accepted.
Pet Policy: Service animals allowed: Yes. Pets allowed: Yes.
Rollaways: Available upon request.
Smoking Policy: Non-smoking property.
The above list may not be comprehensive and information is subject to change without notice. Fees and deposits may not include tax. Taxes, fees, deposits, and policies are subject to change without notice.
Image Credit: ©Rashad Ashurov/Shutterstock
The Enlightenment, 1701 ~ 1769
At Gregans Castle Hotel, legends of battling clans and romantic poets reappear in the thick mists of this luxurious hotel hidden in the heart of Ireland's Burren.
Learn more about the History of Gregans Castle Hotel .