Hacienda La Magdalena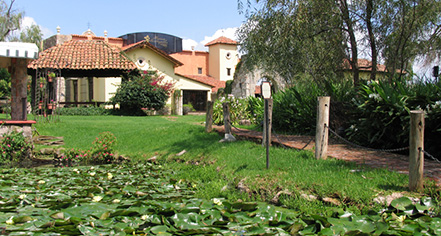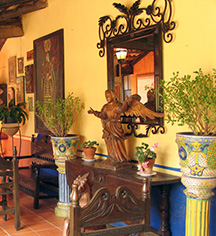 History
Hacienda La Magdalena, located in Zapopan, dates back to the late 17th century. It has changed hands through several owners over the years, one of the first known was Don Jose Caserta, who acquired the property in 1848. He sold it to Don Manuel Jesus de Olazagarre in 1856, who then sold a part to Mr. Escandon who subsequently established a factory of yarns and fabrics, called "La Escoba." In 1876, the tillage lands were sold to Don Ramón Chávez, and the enterprising Mr. Alteño came with his family to work the earth and the hacienda prospered agriculturally. Today, the current owner is Dr. Roberto Guillermo Chávez Ruíz Velazco, a descendant who has kept the memories of his ancestors alive by maintaining the traditions and essences of their culture and heritage.
In celebrating its past, the hotel's guestrooms and suites are named after the ladies and gentlemen who once resided at the hacienda. One example from the 17th century is Jorge, a room named after the son of the owner and who carries the same name as the paternal uncle who died during a charro celebration in 1957. Another historically inspired room is Jovita, the paternal grandmother of the owner who lived here at the end of the 19th and early 20th centuries. These details give the hotel a family ambience and the identity of a historical estate.
Two former sites, named Los Verdes and Los Sauces, which were distinct parts of the former hacienda, are where one could find the washing areas and orchards. These areas are now home to the gardens on which residents celebrate social events and family reunions, and graced by the rebuilt arch that was the facade of the 17th century chapel. These new facilities and gardens with fountains, ponds, willows, and fruit trees are where birds and colorful fish live in harmony with nature.
Since 1990, almost 300 years since its founding, celebrations of all types have been held here, including baptisms, first communions, weddings, graduations, photography sessions, advertising filming, fashion catwalks, and concerts. The hotel's kitchen is experienced in preparing gourmet banquets and offers delicious dishes of traditional Mexican and international cuisine. Hacienda La Magdalena is a place that has been reborn and is proudly present in the history of the Zapopan municipality in Jalisco.

Hacienda La Magdelena, a member of Historic Hotels Worldwide since 2016, dates back to 1735.