Hacienda Misne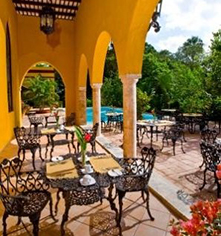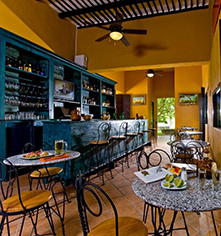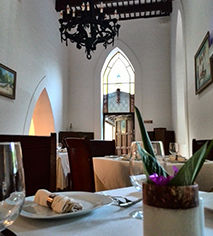 Dining
The Pitahaya Restaurant
Boasting an interior dining room complete with colorful stained glass windows and stunning ogival arches coupled with an exterior terrace shaded by century-old trees and overlooking the garden, The Pitahaya Restaurant has a prime location in the main building at the Hacienda Misne in Merida, Mexico. The traditional dishes are served with a contemporary flair known for reviving recipes that have been passed down in Yucatecan families for generations.
Enjoy breakfast or dinner on the terrace and indulge in exquisite cuisine while delighting in the warm weather or taste the delectable regional dishes inside for a sophisticated ambiance. Available to host up to 50 guests indoors and 30 guests in the garden terrace, The Pitahaya Restaurant is the perfect place for a celebration, reception, or meeting. The satisfying meals served here are sure to leave guests of all palates in bliss while staying in Yucatan, Mexico.
Open daily: 7:00 AM-11:00 PM
La Cantina Bar
Spend the evening with a friend or colleague at La Cantina Bar and unwind in the intimate environment. The historic Mexican architecture only elevates the ambiance perfect for conversation over specialty cocktails or draft beers.
Open daily: 11:00 AM-11:00 PM