Hacienda Xcanatún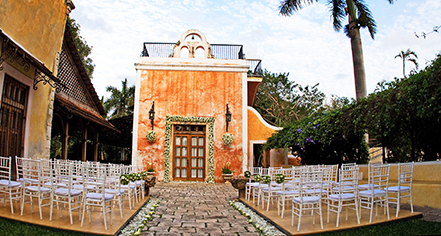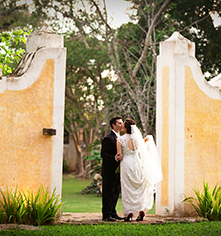 Weddings
For an elegant wedding celebration unlike any other, couples can delight in the picturesque settings afforded to them at Hacienda Xcanatún. The hotel offers space for up to 34 guests to gather for an intimate ceremony, reception, and more, with spaces that afford a romantic ambiance. Antique settings and reconstructed rooms give a nod to the property's original roots, dating back to 1789.

The special couple is able to enjoy the hotel's Hacienda Wedding Package, which allows for a fully-customizable event and use of the hacienda's expansive grounds and facilities. Guests can delight in a spectacular ceremony within the hotel's distinguished chapel or atrium, or at the outdoor facilities of the dining terrace or lush gardens. The wedding site is adorned with delicate flowers and candles, creating a beautiful atmosphere for the most special of moments. Each wedding is afforded a specialized event coordinator, who tends to each need that the wedded couple may have during the planning process.

For guests' culinary needs, travelers can customize a detailed wedding menu, which boasts three-course, gourmet delicacies, featuring either fusion Yucatecan or European cuisine. The couple and their guests can also enjoy a tiered wedding cake, and sparkling French wine during an unforgettable toast. Throughout the wedding celebration sojourn, the couple is able to stay in the multi-level honeymoon suite, with exquisite furnishings and a wrap-around terrace, beamed ceilings, elegant flooring with locally-sourced materials, and a marble bath area featuring a luxurious hydrotherapy tub. On the evening of the wedding, the bed is covered in an intricate flower petal design, and the room is adorned with the fragrance of flowers, candles, and incense. The remainder of the guest party are able to stay within the hotel's remaining 17 guestrooms, with both Superior Rooms and Suites available. With elegant interiors and an unforgettable atmosphere, the accommodations at Hacienda Xcanatún offer a delightful destination wedding experience.