Hilton Hawaiian Village® Waikiki Beach Resort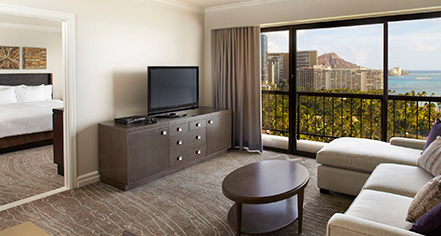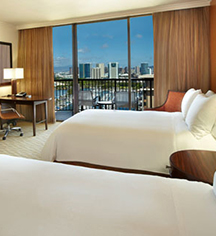 Accommodations
Enjoy elegantly-appointed accommodations at Hilton Hawaiian Village® Waikiki Beach Resort with a variety of guestrooms and suites to ensure the comfort and convenience of every guest. Enjoy ocean views from the Rainbow Tower, exclusive amenities in the newly-renovated Ali'i Towers, and a great location in the heart of the resort in the Village Towers.
Ali'i Tower
Appointed with exclusive amenities in a prime, beachfront location, accommodations at the Ali'i Tower offers newly-renovated guestrooms and suites, a separate check-in, concierge service, a private pool terrace and bar, library, and fitness center. Learn More
Rainbow Tower
Boasting ideal beachfront accommodations, the iconic Rainbow Tower offers a stunning setting with sweeping views of the Pacific Ocean, the majestic Diamond Head Crater, and Honolulu coastline. Renowned for its dazzling rainbow mosaic panels, the Rainbow Tower is situated among the widest, most beautiful part of Waikiki Beach and Duke Kahanamoku Lagoon. Learn More
Village Towers
Comprised of the Kaila, Tapa, and Diamond Head Tower, Village accommodations are situated in a convenient location to everything the resort has to offer, including the conference and meeting facilities. Just a short stroll from the beautiful Waikiki Beach, these tower guestrooms and suites offer stunning ocean, resort, and city views. Learn More
Hilton Hawaiian Village Waikiki Beach Resort, a charter member of Historic Hotels Worldwide since 2014, dates back to 1957.