Hotel Adlon Kempinski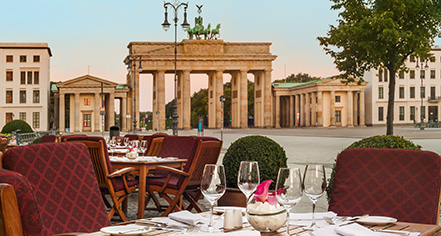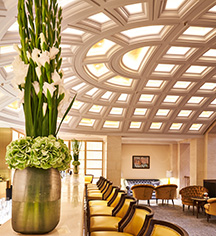 Dining
Sra Bua by Tim Raue
Experience Asian cuisine with a European flair at Sra Bua by Tim Raue at Hotel Adlon Kempinski. As exotic and edgy as its name, the dishes are exciting and combine the complexity of Asian flavors with the culinary signature of star chef Tim Raue. Enjoy a festival of flavors.
Restaurant Quarré
Restaurant Quarré offers a sumptuous menu of International cuisine prepared with regional ingredients. In combination with the classical Quarré dishes, the restaurant offers a unique culinary experience prepared by the chef de cuisine. The magnificent terrace with views of the Brandenburg Gate invites diners to spend the summer à la Adlon.
Lorenz Adlon Esszimmer
Chef de Cuisine Hendrik Otto and world-class Maître Oliver Kraft cordially welcomes diners to the two Michelin star awarded Lorenz Adlon Esszimmer. "Exciting, expressive, European-inspired cuisine" is the motto of Hendrik Otto. Inspired by the varied influences and finest traditions of European cuisine, Otto masterfully creates dazzling interpretations of classic haute cuisine. Exquisite culinary delights and superior wines complemented by spectacular views of the Brandenburg Gate will make the heart of every gourmand beat a little faster. Treat yourself and the ones you love to a fabulous dining experience that will meet and exceed your highest expectations.