Hôtel & Spa Jules César Arles – MGallery by Sofitel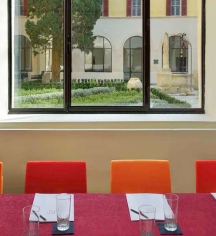 Meetings & Groups
The luxurious Hôtel & Spa Jules César Arles is a fantastic place to host a professional meeting or personal event. Surrounded by lush, verdant gardens, the hotel's setting radiates a calming aura that inspires thoughtful introspection. Its five marvelous conference venues also feature an extraordinary array of audiovisual technology. The Hôtel Jules César Arles even offers several amazing packages that guarantee every occasion will unfold perfectly:
Day Seminar Package
This impressive deal includes the use of the plenary meeting room, and complimentary refreshments served throughout the course of the day. Guests can expect to receive a three-course lunch with drinks, as well as coffee breaks in both the afternoon and evening. Rate: €69 per person
"Laboratories Evening" Package
Under this package, guests will receive access to the plenary meeting room, as well as complimentary refreshments throughout the day. The hotel will also prepare a special three-course dinner served with wine. Rate: starting from €54 per person
Residential seminar package
The Hôtel Jules César will treat guests to a Continental Breakfast in the morning, followed by both a fulfilling three-course lunch and a sumptuous four-course dinner later on. The hotel will also make refreshments complimentary during the event, with the exception of adult beverages. Special rates for single and double rooms are available as well, as is access to the hotel's astonishing plenary meeting room.
Event Space Chart
| | | | | | | | | | |
| --- | --- | --- | --- | --- | --- | --- | --- | --- | --- |
| | | | | | | | | | |
| Lou Marques Room | 1,940 | - | - | - | 100 | - | 250 | - | - |
| Camargue Room | 300 | - | 20 | 26 | - | - | 26 | 10 | - |
| L'Olivier Room | 1,185 | - | 20 | 70 | 40 | - | 70 | 30 | - |
| Le Provencal Room | 775 | - | 60 | 70 | 40 | - | 70 | 25 | - |
| Van Gogh Room | 390 | - | 25 | 30 | - | - | 30 | 16 | - |