Hôtel Molitor Paris - MGallery by Sofitel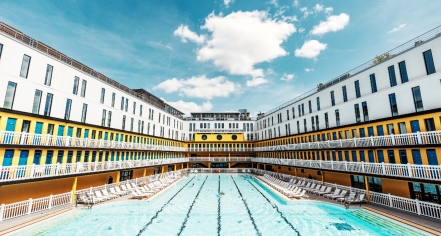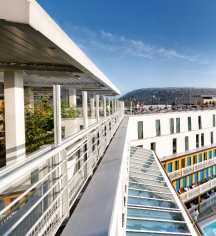 History
Hôtel Molitor Paris first opened in 1929 as the Piscine Molitor Grands Etablissements Balnéaires d'Auteil, a Parisian bathhouse designed by architect Lucien Pollet. The bathhouse was best known for its indoor and outdoor swimming pools, as well as its avant-garde Art Deco décor. For the next 60 years, the complex was Paris's favorite bathhouse and sports complex, where Parisians would come to swim, socialize, and play golf.
As the property evolved, the Hôtel Molitor Paris quickly became a premium venue for Paris's elite to socialize and host events. Highlights over the years included the 1932 artists' gala and the annual Fête de l'Eau, the pool's beauty contest. Socialites often frequented the restaurants, tobacco shops, and salons that surrounded the pool. In the 1970s, the bathhouse's winter pool was replaced with an indoor ice-skating rink. After its installation, the ice rink was only operated for 5 months before its financial burden ultimately led to the closing of the Molitor in 1989, at which point the keys to the property were handed back to the city council.
After the complex closed, the building was designated as a historic Parisian building, even though it was now considered abandoned. From 1989 to 2014, the building would become a clandestine gathering place for artists, who would bring new life to the building with graffiti art. With the influx of design and color, many photographers began to immortalize the works of now-famed artists, including Reso, Shaka, Katre, Kashink, and Jace. The property also began to attract the elite once again, as a unique backdrop for fashion shows, concerts, and parties.
In 2007, the Paris City Council awarded a contract to Colony Capital to restore the building and preserve its historic identity, which lead to the beginning of restorations to transform the property into a hotel in 2011. Unfortunately, much of the historic building was lost due to erosion from chlorine in the pool. However, those areas that could not be saved were restored as closely as possible to their original look. As part of the restoration of the hotel, many of the graffiti artworks were preserved in the hotel's cabins of curiosity surrounding the pool, in the hotel lobby, and other corners of the property for guests to discover. After the restoration was completed, the hotel opened its doors in 2014 as the Hôtel Molitor Paris - MGallery by Sofitel, a part of the AccorHotels Group.
Hôtel Molitor Paris - MGallery by Sofitel, a member of Historic Hotels Worldwide since 2018, dates back to 1929.