Hotel Napoleon Paris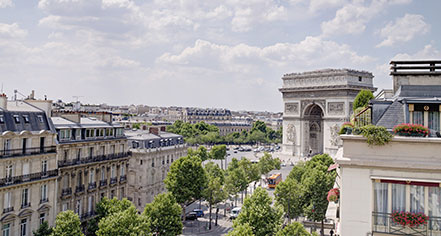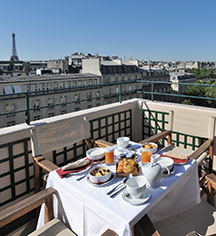 Activities & Events
Arc de Triomphe
This national monument is the absolute centrum of Paris, located in the Place Charles de Gaulle, at the western end of the Champs-Élysées. Built in 1806 to memorialize those who died in the French Revolutionary and Napoleonic Wars, the Arc de Triomphe stands as a landmark on the city's historic axis, the famed route which connects the Musée du Louvre to the Grande Arche de la Défense. Inscribed on its walls are the names of French generals and French battle victories.

Eiffel Tower
The ultimate Parisian icon and symbol of France, this landmark was built by Gustave Eiffel and a team of over 300 men between 1887 and 1889. It was constructed as the tower entrance to the 1889 World Fair, the same year in which France celebrated the French Revolution centennial. Made of latticed iron, it stands above the Champ de Mars, a park-like open space, and caters to millions of visitors every year.

Musée du Louvre
Built in 1793 along the banks of the Seine River, Musée du Louvre is considered one of the oldest in Europe and one of the most renowned in the world. Home to an extensive variety of artwork from ancient times through the nineteenth century, including Leonardo da Vinci's masterpiece "Mona Lisa," the museum was originally built as a royal fortress and today exists as one of the most visited attractions in Paris.

Musée d'Orsay
Converted from a grand, Beaux-Arts train station in 1986, Musée d'Orsay is well known for its vast collection of 19th and early 20th-century artworks including portraits, sculptures, furniture, and much more. It is highly esteemed for its great number of Impressionist and Post-Impressionist paintings, including Monet, Manet, Renoir, Gauguin, and Van Gogh masterpieces.