Hotel Pullman Aachen Quellenhof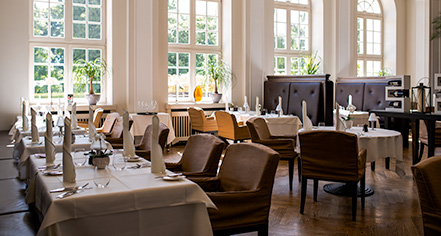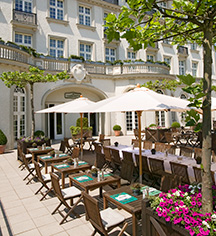 Dining
While staying at the Hotel Pullman Aachen Quellenhof, guests can enjoy the hotel's signature restaurant and inviting lounge. Both establishments offer dishes and snacks that are regionally and seasonally inspired.
La Brasserie
Guests can enjoy ever-changing regional and seasonal dishes for lunch and dinner at the classic La Brasserie during a stay at the Hotel Pullman Aachen Quellenhof. This magnificent restaurant features potted greenery, large arched windows, and plaster moldings throughout the space. On warmer afternoons and evenings, the outdoor terrace is open for dining. Here, guests will have a grand view of the adjacent city gardens.
Elephant Bar
The attractive Elephant Bar is designed with a colonial club-style décor that features plush leather banquettes, oil paintings of elephants, wood accents, and a grand bar. Open daily after 5pm, this inviting lounge area serves up some of Aachen's best artisanal cocktails and finger foods.