Hotel Pullman Aachen Quellenhof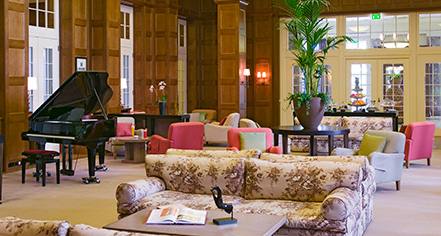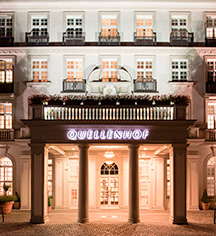 History
During the early 1900s, the City Council of Aachen decided to revitalize the city's spa life by constructing a spa district, including a hotel and treatment center. The City Council collected designs for the grounds, hotel, and spa from many different architects, finally choosing a three-winged complex designed by Karl Stöhr, a German architect. Stöhr's neoclassical design style can be identified by the hotel's simple grandeur, arched windows, and geometric lines. Ground was broken on the site of the old Maria-Hilf-Hospital on April 15, 1914. The old hospital grounds were also converted into a spa park and city garden. Although construction was halted by the start of World War I, the grand opening of the Hotel Palast Aachener Quellenhof took place on June 8, 1916, over 100 years ago. The hotel was well received and became internationally known as one of the most renowned spa hotels in Germany.
In 1936, the hotel opened the largest thermal spa hall in Europe. Sadly, however, the spa and the Quellenhof were badly damaged during World War II. While the structure of the hotel remained mostly intact, all belongings and furniture were confiscated or plundered during the war. In 1949, the hotel was able to open again, this time with only four guestrooms, as all other areas of the structure were still damaged. Slowly, more and more rooms were rebuilt, and by 1966 there were 220 guestrooms on the property.
In the 1970s, development around the hotel boomed; the Eurogress conference center and a casino were introduced to the area. With new development and tourism, the hotel underwent a major, $26 million renovation from 1976 to 1979. After the hotel was sold in 1995, it was closed and refurbished for another $50 million by the Kölner Fundus Gruppe from 1997 to 1999. During this renovation, the original stucco of the building was completely re-built, restoring the former glory of the hotel. After the renovation, the hotel was nominated for the international Hotel Oscar "Trophées Hermès," in which it won second place, and was the first refurbished hotel to receive placement. In 2001, the hotel's spa facilities underwent a complete transformation, bringing a Far Eastern flair to the serene space. The Quellenhof was acquired by Accor Hotels in 2004 and has been operated as a Pullman Hotel since 2008. Throughout its history, many famous guests have stayed at the hotel including Prinz Bernhard of the Netherlands, King Juan Carlos of Spain, and Winston Churchill.
Hotel Pullman Aachen Quellenhof, a member of Historic Hotels Worldwide since 2018, dates back to 1916.