Hotel Union Øye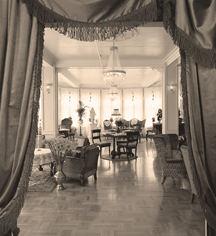 History
Established in 1891, Hotel Union Øye gained notoriety when the aristocracy and luminaries of Europe sought experiences to indulge in nature without sacrificing luxury and comfort. With its convenient location amid the peaceful village by the Hjørundfjord and surrounded by a majestic mountain range, Hotel Union Øye was praised for its glorious intimacy by royalty, including Queen Wilhelmina of the Netherlands, Emperor Wilhelm II of Germany, King Oscar II of Norway and Sweden, and Queen Maud and King Haakon VII of Norway.
Today, while the property has gone through expansions and renovations, the decor and authenticity of Hotel Union Øye remains, inviting a journey into the past to when dignitaries roamed the halls.
Hotel Union Øye, a member of Historic Hotels Worldwide since 2012, dates back to 1891.