Hotel Villa Cipriani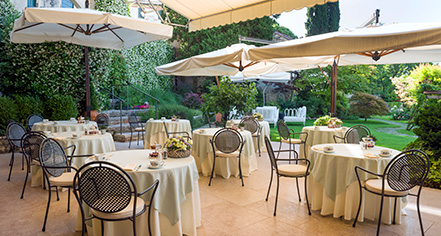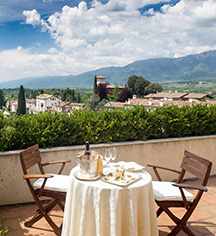 Dining
Dining at Hotel Villa Cipriani combines exquisite regional Italian and Mediterranean cuisines with gorgeous views of the green valleys and rolling hills. Guests can enjoy fine dining at the hotel's Villa Cipriani Restaurant or grab a quick bite at the poolside Rosmarino Snack Bar. With recipes handed down for years by past bartenders, visitors can stop by the Al Pozzo bar and delight in refreshing cocktails.
The elegant Villa Cipriani Restaurant serves a delightful combination of traditional Veneto and Mediterranean cuisines for lunch and dinner. The seasonal menu features the freshest ingredients available from local markets. Every meal is accompanied by the breathtaking views of the valley's olive and pomegranate trees. Formal attire is required for dinner. The restaurant is open from 12:30 p.m. until 2:30 p.m. for lunch and from 8:00 p.m. until 10:30 p.m. for dinner.
The Al Pozzo Bar, situated in the hotel lobby, offers a quiet place to enjoy spirits and conversations. Sip a Bellini, made with fresh peach juice and fine Italian Prosecco, and enjoy the serene atmosphere. The bar is open from 9:00 a.m. to 12:00 a.m. daily.
In the summer months, drinks are offered on the terrace, surrounded by the hotel's opulent gardens. With cascading perfumed roses in May, century old cypresses, and everlasting greenery, the magnificent garden provides a welcome setting for unwinding or entertaining with friends.
Rosmarino Snack Bar offers light dishes, quick bites, cocktails, and beverages, all while overlooking the Italian countryside. Located in the garden by the pool, the snack bar is only open during the summer months from 11:00 a.m. to 7:00 p.m.
Kindly note that at the restaurant, bar, and terrace-garden areas, flip-flops and shorts are not permitted. Formal attire is required for dinner.