Kempinski Hotel Cathedral Square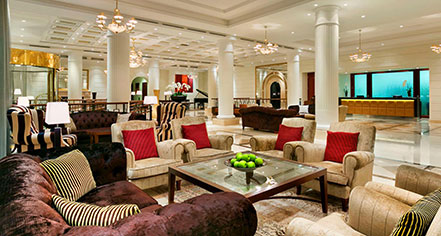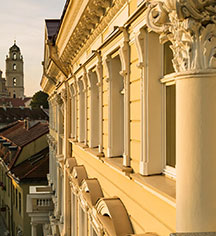 History
The Kempinski Hotel Cathedral Square's classical elegance incorporates European heritage with modern features, bringing back traditions and high standards of hospitality in Lithuania. Kempinski Hotel Cathedral Square is situated in a perfect location, in the very heart of culturally and architecturally rich Vilnius's Old Town. The hotel is a stone thrown from the Presidential Palace and Cathedral Square. Numerous governmental institutions, significant historical landmarks and major shopping avenues all are within walking distance.
Built in the 1900s, the property is rich with history. Although it was originally created as a hotel, throughout the years the building has transformed and changed as it was influenced by the intense changes history brought to Vilnius and Lithuania. After many years of being used as the Central Telegraph of Vilnius, the neoclassical building was carefully renovated, with a special effort made to reflect and preserve the building's historical roots, abundantly decorated facade, the neo-Baroque cupolas on the roof and the balconies.
Kempinksi Hotel Cathedral Square is proud to share with its guests a unique historical treasure – fragments of the Vilnius Defence Wall. In the beginning of the 16th century, the territory of the Lithuanian Great Kingdom was attacked by Tatars. The Grand Duke Alexander ordered that a defensive wall be created and in 1522 construction was nearly finished. The city of Vilnius was surrounded by a wide stone and brick wall, which does not exist nowadays – the governors of Tsarist Russia initiated its destruction 200 years ago. Though the wall was destroyed, its remains and fragments have endured in a few places. Part of the defensive wall built in the 16th century was discovered during the restoration of Kempinski Hotel Cathedral Square and carefully preserved. It is today open for the public eye; it has been glassed-in, and can be seen at the entrance to the restaurant. It is considered not only a historical treasure and cultural monument in terms of Lithuanian history, but it also represents a significant discovery for all of Europe. A certain section of the wall is tremendously unique, because it is the only one which connects the main city area with the Vilnius castles.

Kempinski Hotel Cathedral Square, a member of Historic Hotels Worldwide since 2016, dates back to 1900.