Le Pavillon Hotel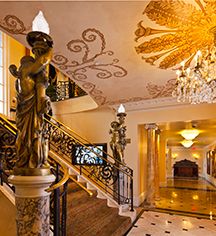 History
Original construction on the 10-story Le Pavillon Hotel located on Poydras at Baronne began in 1905. The hotel was turned over to Mr. Justin Denechaud in 1907 and was known as the New Hotel Denechaud until 1913 when new owners renamed it the DeSoto Hotel. The hotel quickly became a luxe hot spot, and numerous dignitaries entered the hotel for grand balls and political purposes as well as the grandeur and privacy always offered at Le Pavillon Hotel.
Records indicate that, during the years of Prohibition, an underground tunnel led from the hotel to a building a block and a half away, evidently "in case of emergencies"—and for discreet VIP passage. The penthouse suite was the original home of the first radio station in the city, WDSU, from 1928-1948. New owners acquired the hotel in the early 1970s and named the hotel Le Pavillon. The French name seemed befitting, as the land was purchased from France more than 200 years ago from Jean Bienville, founder of New Orleans.
The new owner focused on developing Le Pavillon into an outstanding showplace for the city. The search began in Europe, yielding many of the furnishings gracing the halls today, including the massive exterior columns and oversized sculptures carved by Italian artisans to the owner's specifications. The 11 glistening lobby crystal chandeliers were purchased in Czechoslovakia, along with the matching sconces. The various paintings and furnishings such as the marble railings came from the lobby of the Grand Hotel in Paris. These details reinforce historic Le Pavillon Hotel's turn-of-the-last-century roots, but in all other ways the hotel is firmly rooted in the 21st century.

Le Pavillon Hotel, a member of Historic Hotels Worldwide since 1994, dates back to 1907.
*****
Guest Historian Series
Read more about the history of Le Pavillon Hotel, as told by Historic Hotels of America 2014 and 2015 Historian of the Year Stanley Turkel. Excerpt is taken from his latest book Built to Last: 100+ Year-Old Hotels East of the Mississippi (AuthorHouse 2013).