Mayaland Hotel & Bungalows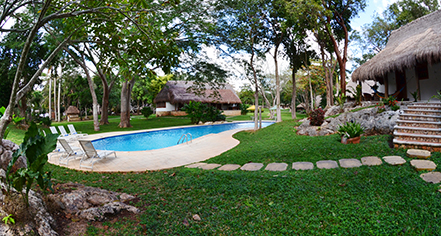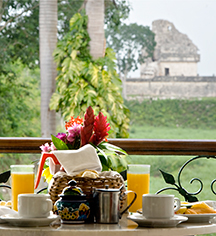 Activities & Events
Spa Services
Guests at Mayaland Hotel & Bungalows can indulge in on-site massages, allowing every care to drift away as they delight in ultimate relaxation.

Nature Paths
For travelers looking to enjoy the lush greenery surrounding the hotel, a variety of pathways are available. Guests can meander on a leisurely stroll, cycle, and horseback ride throughout the various trails.

Archaeological Sites
The various archaeological sites are available for guests' enjoyment on Chichen Itza's expansive grounds, and hotel guests are made privy to exclusive entrances.

Concierge Services
For a myriad of reservations, the hotel's dedicated concierge staff is ready to assist each traveler. From the Light & Sound Show, to private tours, to horseback riding adventures, the concierge can make each request a reality during one's sojourn.

Maya Planetarium
The hotel's observatory allows travelers an in-depth look into Mayan culture and its intricate history of traditions, with various presentations including Tales of the Maya Skies, a planetarium show utilizing a full dome space.

Horseback Riding
Guests can delight in a one-hour tour through the hotel's tropical landscape, including visitation to an ancient archaeological site, The Thompson's Rehollada, featuring traditional Mayan water collectors, and appreciation of the region's treasured wildlife along the way.

Be Maya Program
With a one-of-a-kind experience, guests can immerse themselves in traditional Mayan culture, as they prepare a traditional dish, learn the celebrated history and traditions, and even take part in a Mayan ceremony reenactment.

Cooking Lessons
With an exclusive tutorial, the hotel's expert chef teaches travelers to prepare the traditional dish of pollo pibil, one that is standard in Yucatan culture. The experience includes a continental breakfast and full lunch throughout the cooking class experience.