Napa River Inn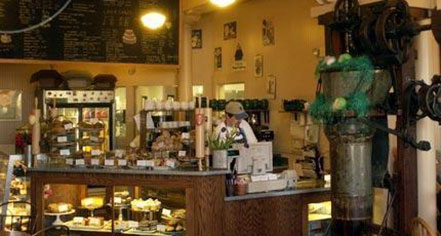 Dining
Guests at the Napa River Inn can visit the Riverfront for a world-class dining experience, with diverse cuisines to satisfy every craving. Check out the hotel's special packages when booking a room; some include a $100 dining credit to such establishments as Morimoto Napa, The Pear Southern Bistro, Silos, Angèle Restaurant & Bar, Celadon, and The Corner Napa.
Angèle Restaurant & Bar
Angèle Restaurant & Bar is an intimate French bistro perched above the Napa River. The 155-seat restaurant is the realization of the Rouas family's dream to create a refuge that offers delicious French country foods, wines, and a space for celebrating with friends and family. With all-day service within the 80-seat rustic yet elegant dining room and on the 75-seat riverfront terrace, the celebration is ongoing. The Rouas family has designed an oasis where a European sensibility of food and wine captures the true essence of joie de vivre.
Celadon
Celadon is an award-winning restaurant which provides world-class service in a lovely dining room and a charming courtyard. The seasonally influenced menu features flavors from the Mediterranean, Asia, and the Americas. The industrial chic venue with Antique French advertising posters offer a variety of unique and tasteful dishes.
Morimoto Napa
Morimoto Napa's contemporary Japanese menu infuses traditional dishes with Western ingredients and preparation techniques. The seasonal and ever-changing selection of raw fish preparations features the freshest seafood available, as well as locally grown fruits and vegetables from supporting farmers.
The Corner Napa
The Corner Napa, located on the corner of Riverfront Plaza's Main Street pavilion in the heart of downtown, is a wine country destination. The restaurant features approachable but elevated, seasonally driven Modern American Cuisine; with a strong emphasis on sourcing from local artisanal growers and producers.
Silo's
Located in the heart of Downtown Napa at the Historic Napa Mill, Silo's is Napa's premier music venue. Like a classic Chicago speakeasy, Silo's features its own small-crafted draft beers, a full liquor license, and some of the finest Napa Valley Wines. During the week, enjoy live music starting at 7:00 p.m. (doors open at 6:00 p.m.) On Friday and Saturday, music starts at 8:00 p.m. (doors open at 7:00 p.m.)