SO/ Berlin Das Stue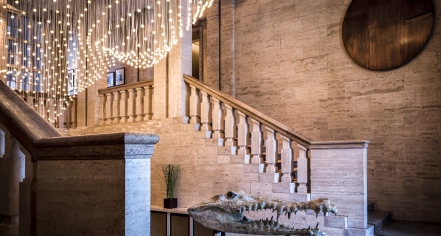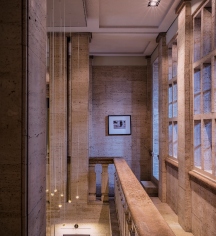 History
The story of the Das Stue dates back to 1938, when Denmark created a new embassy in Berlin's bustling Embassy Quarter. Architect Johann Emil Schaudt oversaw its construction, relying upon German neoclassical architecture for his inspiration. Schaudt designed Das Stue in a style reminiscent of German department stores, incorporating a curving front façade tiered with balconies onto its appearance. It took Schaudt two years to build Das Stue, who then turned it over to the Danish government in 1940.
Denmark reclaimed the building after World War II, finding that it had been damaged toward the beginning of the conflict. The Danish government subsequently overhauled the structure in 1947, using Das Stue as another consulate. Das Stue served as the Royal Danish Embassy for the next 38 years, until the Danes sold it for public housing during the late 1970s. The company that acquired the building, though, let it to fall into disrepair. Fortunately, city officials saved Das Stue in 1983, transforming it into a vast office complex. Three years later, the Deutsche Bundespost (the German Post Office) and Deutsche Telekom began using the site as a venue for executive training.
Das Stue finally became a hotel in 2009, undergoing a massive renovation spearheaded by Axthlem Architects, an architectural firm based in Potsdam. The firm added a modern, trapezoidal wing onto Das Stue, which connects directly onto its original structure. Axthlem Architects integrated sharp angles throughout the modern wing, which provided the space with contemporary living accommodations and beautiful views of Berlin. In the building's historical portion, the firm diligently preserved its traditional detailing as much as possible. SO/ Hotels and Resorts now manages this marvelous historic hotel, operating it as the luxurious SO/ Berlin Das Stue.
SO/ Berlin Das Stue a member of Historic Hotels Worldwide since 2018, dates back to 1938.