Sofitel Legend The Grand Amsterdam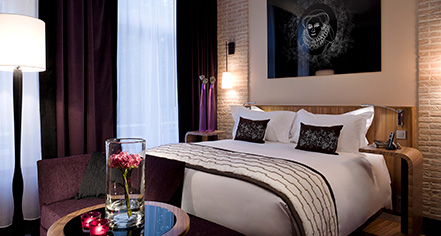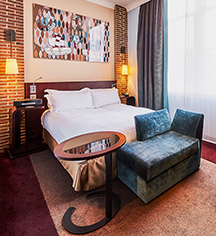 Guestrooms
Classic Rooms
The Classic Rooms overlook the peaceful inner-garden terrace. Sofitel has equipped each Classic Room with a signature Sofitel MyBed, Nespresso machine, and a safe deposit box. Rooms also come with complimentary WiFi and high-speed Internet access. Classics come complete with a comfortable bathroom and walk-in rain shower.
Superior Rooms
High ceilings and grand windows define the architectural aesthetics of each Superior Room, which bring you closer to the rich history of the building. Many of the Superior Rooms even display the traditional brickwork used when the Dutch Admiralty renovated the location. Each room features such amenities like a twin or double-sized Sofitel MyBed, a Nepressso machine, and Hermès toiletries. The Superior Rooms offer wonderful views overlooking the garden, the nearby canals, or the courtyard.
Luxury Rooms
Famous French designer Sybille de Margerie combined timeless grandeur with contemporary Dutch style, when she designed the interior of the Luxury Rooms. The Luxury Rooms combine intricately woven textiles with sophisticated furnishing, rendering every Luxury Room a stunning sight to behold. Luxury Rooms come complete with a signature Sofitel MyBed, as well as a bathroom outfitted with the latest in high-tech entertainment. A tribute to the royal patrons who have stayed at The Grand line the walls of every Luxury Room, giving guests an irreplaceable historical sense of place.