Sofitel Winter Palace Luxor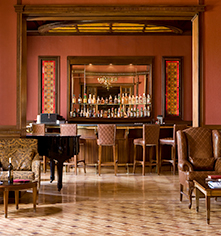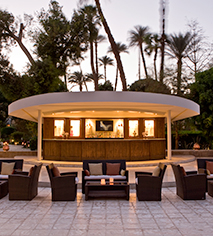 Dining
1886 Restaurant
Chef Ménad Berkani inspires à la carte creations from crayfish to risotto at this opulent Luxor restaurant. Dine by candlelight among gilded mirrors; a guitarist strums quietly. Dress code: jacket and tie for men, smart for ladies. Reservations required.
Open Daily: 7:00 PM - 11:00 PM
La Corniche Restaurant
Vast sun-lit windows, polished wood floors and crimson-gold details enliven this elegant restaurant in Luxor. At a pristine white table, breakfast of fresh pastries and omelets made to order. In the evening, relax over gourmet International cuisine.
Open Daily: 7:00 PM - 11:00 PM
L'Oasis
A swim-up restaurant and bar in the center of the swimming pool, L'Oasis invites rest and repose. Emerge from the cool waters for a refreshing fruit cocktail and savor gourmet pizzas or salads under a shady reed parasol, any time between lunch and dinner.
The Victorian Lounge
In the Victorian Lounge, richly decorated with a majestic crystal chandelier and plush, pink oriental carpets, sip afternoon tea with delicate macarons and scones. King Farouk, the last King of Egypt, enjoyed the beloved tea ritual in this opulent salon.
Central Park Bar
After a stroll through the gorgeous Winter Palace gardens, past the bougainvillea and fruit trees, refresh yourself at Central Park Bar in Luxor. On a peaceful palm-shaded terrace, sip Chardonnay or mint tea and enjoy a light, savory snack.
Nile Terrace
On the vast Nile Terrace, unwind beneath a canvas umbrella with cool, sweet hibiscus tea and freshly made scones. Sunsets are beautiful. Agatha Christie relished these same Nile River and West Bank views as she penned Death on the Nile.
Royal Bar
Deep red walls, damask fabrics, and rich wood paneling add French elegance to this cozy Luxor bar. Sip fine champagne and French wines to the soothing sound of classical piano every night. Traditional afternoon tea is served in the library lounge.