Sopwell House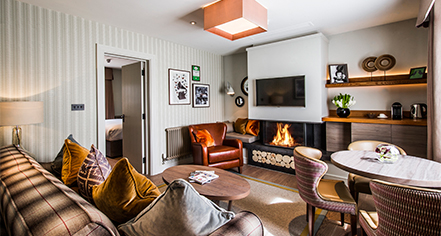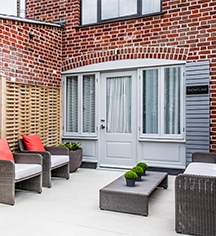 Suites
Sopwell House Suites are modern and chic with varying layouts and design that offer ample space. Recently refurbished rooms in the Mews Suites are situated back in the scenic gardens behind a secure gate. Guests can walk the grounds to soak in the history of the English countryside or enjoy a respite from busy city life.
Mews Suites
What were once traditional farmhouse cottages and stables have been refurbished and transformed into the 16 rooms of premium accommodations. Mews Suites are separate from the main hotel, set back in a lush, and meticulously landscaped garden. These suites, secured behind a gate, offer guests a bit more in the way of privacy. Some suites include fireplaces, high-end kitchenettes, private cedar wood baths, and even private terraces.
Balcony Suite
A spacious room with a modern chic design that include an integrated living area and separated work area.
Junior Suite
Most Junior Suite rooms are located in the Georgian building with ample space and comfort. Suites feature a sitting area allowing extra space to work or relax, as well as a sofa bed for any extra guests.