Stalheim Hotel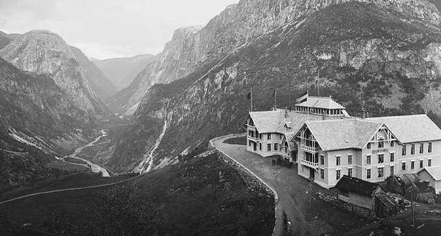 History
Dating back to 1647, Stalheim's hospitality began as a postal farm on the newly appointed Oslo to Bergen mail route. Now an attraction in the Stalheim Folk Museum, the humble postal inn was established in 1750 to accommodate travelers following the mail route. When travelers flourished, Stalheim Hotel opened in 1855 offering 20 beds. In just a decade, demand increased and Stalheim expanded, soon featuring 160 beds and a fine dining room.
During the Second World War, Stalheim Hotel was occupied by the Germans and reopened in 1946. Business continued to be fruitful until 1959 when the hotel was burned down. After extensive planning, the Stalheim Hotel that stands today was rebuilt and opened the following summer.
A coveted location amid the lush green surroundings of the snow-capped peaks of Norway, Stalheim Hotel attracted frequent visits from painters and artists for inspiration for their work. Paying homage to the artists' loyalty and work, Stalheim has displayed many famous paintings and other artwork throughout the property.
Stalheim Hotel, a charter member of Historic Hotels Worldwide since 2011, dates back to 1750.