The Algonquin Resort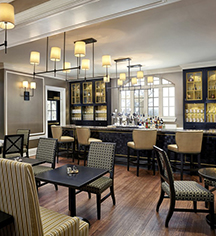 Dining
The Algonquin Resort believes that "if there's room to gather, there's room for incredible cuisine." From in-room dining to its in-house restaurants, The Algonquin Resort will ensure that no traveler goes hungry.
Restaurants and Dining Experiences at The Algonguin Resort:
Braxton's Restaurant & Bar - An elegant, but intimate, dining experience that offers delicious dishes made from local ingredients.
The Clubhouse - Located on the Algonquin Golf Course, the Clubhouse serves dishes for the hungry golfer during the day, but caters to the upscale crowd at night.
Room Service - Prepared by the staff in Braxton's Restaurant & Bar, in-room dining is as tasty as it is convenient.