The Broadmoor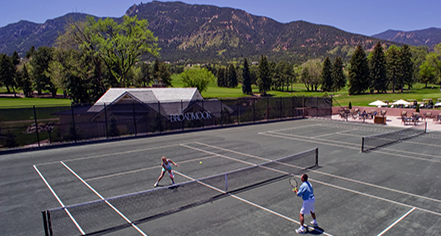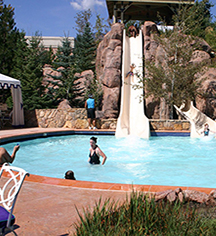 Activities & Events
By incorporating the natural wonders of the outdoors with luxury historic lodging, this 5,000 acre Colorado Springs playground offers quite the number and variation of on-site activities sure to please every kind of guest. From a full-service spa, to championship golf, tennis, and Seven Falls for those wishing to immerse themselves in the beauty of Colorado's natural wonders.
Plenty of family activities abound such as swimming, horseback riding, biking, walking, or running on the scenic trails. The Broadmoor offers mountain bike rentals for use around the resort and on nearby trails.
Boutiques, shops, lounges, and even an art gallery located on-site, offer opportunities to browse, shop, and generally relax.
Family Year-Round Activities
Biking, Walking, and Running Trails in Colorado Springs
Horseback Riding
Indoor Pool
Spa
"PeeWee" Tennis Drills & Junior Tennis Camps
PLAY
A dining and activity venue at The Broadmoor suited for families and groups. With six lanes of the bowling, a variety of games, and cuisines from around the world, this venue has a little something for everyone.
Family Summer Activities
Paddle Boats
Canoeing
Outdoor Pool
Golf
Fitness
The Fitness Center at The Broadmoor is open from 5:30 AM - 9:00 PM daily and is reserved for hotel guests 18 and over. Guests under the age of 14 must attend a Youth Orientation in order to use the Fitness Center facilities.
The Fitness Center offers a variety of tools in order to help guests achieve or maintain their fitness goals. The Broadmoor offers the opportunity to work one-on-one with a fitness specialist who can provide information on healthy eating, exercise techniques, fitness evaluations, and metabolic analysis.
Pools
The Broadmoor has three different swimming pool facilities which guests can enjoy during their stay.
Outdoor Infinity Pool (Seasonal)
Spa Pool (Open Year-Round)
Lap Pool and Whirlpool (Open Year-Round)
The Arts
The splendor of the natural beauty of Colorado Springs and the land surrounding The Broadmoor has inspired generations of artists. This historic hotel continues to celebrate art by hosting various programs, classes, retreats, tours, and workshops. History buffs are included as several tours are offered that take a look at the colorful past of Colorado Springs and the fabulous Broadmoor hotel.