The Emily Morgan San Antonio - a DoubleTree by Hilton Hotel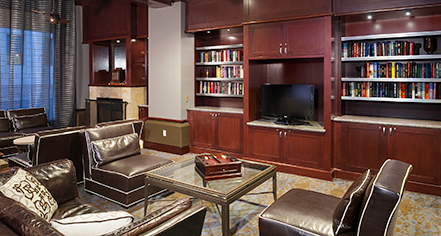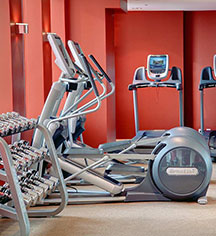 Activities & Events
Fitness Center
Enjoy the hotel's cutting-edge fitness center, featuring the finest Pre-Cor exercise machines and free weights for guests' use. With scenic views and state-of-the-art equipment, enjoy a customized fitness routine even while away from home.
Outdoor Pool
Bask in a dip at The Emily Morgan Hotel's heated outdoor pool. Offering guests a cool respite from the sun's rays, the pool is open from 7:00 a.m. until 9:00 p.m. for guests to enjoy at their leisure.
The Library
A secluded space for reading, peace, and quiet, The Library offers guests the perfect place to concentrate on both work and leisure. Featuring complimentary WiFi, books, and newspapers, these materials complement luxurious furniture allowing guests to unwind, as The Library becomes a splendid haven for mingling in the most cozy of environments.
In-Room Spa Treatments
Delight in the rejuvenating ambiance of a day at the spa in the comfort of the guestroom. Without having to step out of The Emily Morgan Hotel's front doors, guests can relax and unwind as a knowledgeable spa associate visits the guestroom for relaxing spa treatments, from 30, 60, 90, or 120 minute massages, to facial masks, or even a personal yoga class. Spa treatments can be arranged through the Concierge.
Pet Program
Guests can pamper their pets by allowing them the comfort afforded by The Emily Morgan Hotel's pet program. Travelers can treat their furry friend to a pet-friendly room service menu crafted by the hotel's executive chef, allowing them to experience the lavish comforts of a true vacation alongside their owner.
Valet Parking
Guests at the Emily Morgan Hotel can enjoy valet parking, at a cost per night of $35 plus tax with unlimited in and out privileges. This allows them to experience the city and all it has to offer, returning comfortably to the property at their own convenience.
Hotel Services

Automated Teller (ATM)
Baggage Storage
Bar Area
Business Center
Concierge Desk
Elevators
Laundry/Valet Service
Lounge
Luggage Hold
Multi-Lingual Staff
Oro, Full-Service Restaurant & Bar
Room Service
Safety Deposit Box
WiFi