The Fairfax at Embassy Row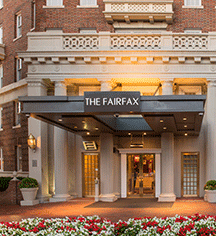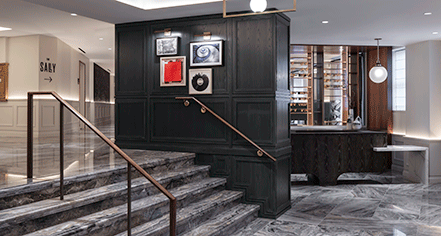 History
The nation's capital is a place where many people's work and play revolve around spinning a tale. Talk is sport and a highly competitive one at that. Washington, D.C. is a city with a rich folklore that speaks to political power and its colorful and varied sources — money, society, fame, charisma, pedigree, and education. Legions of powerful people call Washington home — from prominent national politicians, to the armies of staff who support them, and the lobbyists who court them.
Washington, D.C. is also home for powerful people from every corner of the globe. From far reaches of the world, nations big and small send their most talented diplomats and delegates to power broke in Washington, D.C. This is the complexion of the powerful in Washington; it is both local and global.
The Fairfax at Embassy Row opened its doors in 1927 and since then, has been steeping in Washington D.C. history. With more than 80 years as an elegant and intimate hotel, it has revolved around notable figures including, the Kennedy family, Hillary Clinton, Al Gore, and Nancy Reagan.
From the opening of the Dupont Circle hotel, distinguished guests were instantly drawn to its stately elegance. Designed by noted architect, B. Stanley Simmons, The Fairfax at Embassy Row was built in a Colonial Revival style which, today, is part of the Dupont Circle Historic District and the Massachusetts Avenue Historic District.
Upon its opening in 1927, room rates were $4.00 per night, an exorbitant amount for that time, for a double occupancy suite which included a parlor, bedroom, and full bath.
In 1932, Colonel H. Grady Gore purchased the luxurious hotel and so began an era where congressmen, senators, and ambassadors began to establish The Fairfax as a permanent residence.
A young Al Gore was one of the more notable tenants, as well as Mrs. Henry Cabot Lodge, Admiral and Mrs. Chester William Nimitz, and Senator John L. McClellan. Senator and Mrs. Prescott Bush, along with their young son, George H. Bush also called The Fairfax home during their visits to Washington D.C.
During World War II, The Fairfax at Embassy Row transformed as a sanctuary for soldiers visiting the nation's capital. The Gore family established the policy of never turning away a man in uniform, even when their arrival became a daily occurrence. Even when the hotel was fully occupied, public areas were converted into makeshift sleeping quarters with fold-away cots. Every effort was made to house the country's soldiers.
After the war, America marched on into the 1950s, where The Fairfax at Embassy Row became an exclusive destination. Glamour reached new heights while sealing its destiny as Washington D.C.'s trendsetter. The "insider" parties held at the famed hotel kept it on the tip of everyone's tongue. Shortly after this identity emerged, The Fairfax at Embassy Row hosted the inaugural breakfast for President Eisenhower.
In 1961, the original Jockey Club restaurant opened. It was inspired by New York's legendary eatery, "21." In time, the restaurant became a gathering place for President Kennedy's "Camelot" and Nancy Reagan was known for being a regular, with a corner table preference and a salad in her namesake. Other well-known personalities to hang out at The Jockey Club include President William Jefferson Clinton, Vernon Jordan, Frank Sinatra, Liza Minelli, Jack Nicholson, Julie Andrews, Samuel L. Jackson, and Angela Basset.
By 1975, the Washington Metrorail became a staple mode of transportation which comfortably moved people around the city. Located just one and a half blocks from Dupont Circle Station, The Fairfax at Embassy Row has continued to grow and evolve with the times to meet the needs of its guests.

The Fairfax at Embassy Row, a member of Historic Hotels Worldwide since 2016, dates back to 1927.