The K Club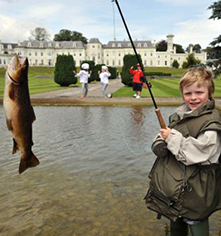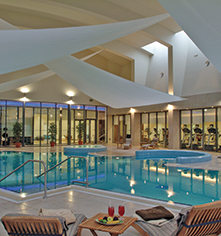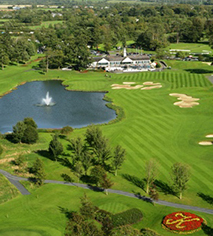 Activities & Events
The K Club boasts an array of activities for its visitors to cherish time and time again. For attractions designated for family fun, to outdoor explorations, each of the resort's guests can delight in a vast number of offerings for their enjoyment, without departing the property grounds.
Golf
Renowned for its superb golf, The K Club is recognised as one of Europe's greatest golfing destinations. Offering golfers 36 of the most exciting and dramatic holes, The Palmer Ryder Cup Course and The Smurfit Course promise to challenge and excite golfers with treacherous rough, water hazards in abundance, long greens and undulating fairways.
Bicycle Tours
Guests are able to rent both adult and children's bicycles to traverse the resort at their leisure.
Swimming Pools
A luxurious swimming pool awaits on property, allowing travelers to bask in the sunshine amid their explorations. Children's swimming lessons are available upon request, so even beginning swimmers can enjoy a dip in the pool.
Children's Playground
Within the Walled Garden area of the hotel, families can enjoy a Children's Playground.
Kids Club
A Kids Club is offered, where children guests of the hotel can play with the supervised guidance of the hotel's delightful team of staffers.
Golf Buggy Tour
Travelers can rent a golf buggy to traverse the numerous golf courses and expansive property grounds.
Outdoor Attractions
A vast number of outdoor attractions await visitors of The K Club. Guests can delight in archery, air rifle shooting, clay pigeon shooting, fly fishing on the River Liffey, and horseback riding throughout the gorgeous countryside.
Newgrange Falconry
In a partnership with The K Club, Newgrange Falconry offers travelers a unique experience to learn about Falconry with an interactive display with a variety of bird species.
Walking Tours
The K Club property is comprised of more than 550 acres of rich Irish countryside, perfect for travelers to walk through at their leisure. The hotel's garden features eccentric varieties of trees amid beautiful flowers, offering guests a chance to marvel at the exquisite scenery.
Wine Cellar Tour
Offering a tour for up to 30 guests, travelers can explore the revered K Club Wine Cellar, enriched with history. Containing an unparalleled collection of vintage varieties, the cellar welcomes guests for either exclusive tour, or a tour coupled with The K Club's finest dinner experience. Along with this experience, guests can also set up private wine tastings, to enjoy the delicate varieties of the region and beyond.