The K Club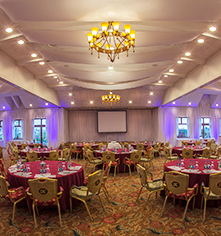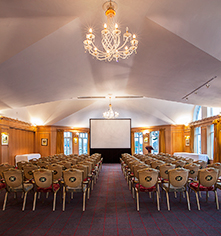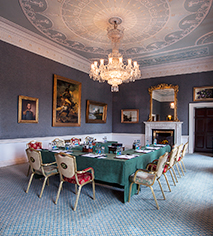 Meetings & Groups
With an event at The K Club, any group can find an ideal space for all of their meeting needs. With the support of the hotel's Event Manager, travelers can delight in the most perfect of places for an unparalleled event. From corporate functions, to social events, to customized team-building activities, groups of travelers are able to discern the appropriate event space for their unique party. Groups at The K Club are also afforded salon dining, complimentary WiFi and parking, state-of-the-art technologies, branded stationary, and the assurance that each request is granted with ease by the resort's dedicated staff.
The unique attributes of each room are showcased throughout the property in all of their splendor. For golf enthusiasts, The Arnold Palmer Room promises delightful views of the sprawling golf courses amid plentiful natural light and wood paneling in the interior space. For larger parties, The Legacy Suite seats up to 500 guests within its ballroom space, with room for breakouts at The Riverside Café next door. For more intimate meetings, The Deacon Room is able to host 100 travelers and is equipped with state of the art technologies. For a more historical ambiance, The John Jefferson Smurfit Room dates back to 1832, and leads out to the dignified Yeats Room, which features the original artworks of the famed painter, Jack B. Yeats. Lastly, The Tower Room offers travelers a distinguished boardroom space, located wtihin The K Club's original structure.
View The K Club Capacity Chart
Along with more traditional meeting requests within each of the unique spaces, the resort offers a variety of unique team-building activities, from whiskey tastings, to fishing lessons, to Irish coffee-making classes. The K Club also affords travelers an experience that is unable to be replicated anywhere else, the Celtic Challenge. Amid the greenery of the Irish countryside, groups split into teams for an entire day and enjoy ancient Irish teambuilding activities. Guests will delight in Gaelic football, hurling, horse shoe throwing, turf stacking, nail banging, wheelbarrow racing, Wellie throwing, and more, allowing them to experience a matchless experience involving a vast amount of team bonding.
Within each of the resort's six meeting spaces, travelers are afforded an array of modern conveniences. With a simple request, each group is made privy to the following amenities and services: syndicate rooms, pre-conference areas for registration, presentation equipment, hotel amenities, a conference phone, fax and photocopy services, DSL lines, AVS equipment, a fully-equipped business center, technological support, projection equipment, banquet spaces, welcome amenities, and a meeting concierge.
Technical Equipment
Syndicate Rooms
Pre – Conference area for Registration
Presentation Equipment
Easy Access to Hotel Amenities
Conference Phone
Fax / photocopying
DSL Lines
IT Support
AVS Equipment
Business Centre
Lecterns
Equipment necessary for rear projection and multi-image dissolve programming
Banquet Venues
Welcome Amenities and VIP Gifts
Spouse Programmes
Secretarial Support