The Royal Hawaiian, A Luxury Collection Resort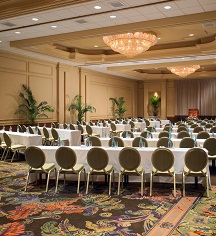 Meetings & Groups
At The Royal Hawaiian, a Luxury Collection Resort, dramatic, arched hallways and iconic pillars welcome your party to 12, 000 square-feet of dazzling interior meeting spaces, and a few steps away, over 60,000 square-feet of outdoor event possibilities await.
Designed to accommodate privileges tastes and the highest technical standards, each venue promises to fulfill more than mere functionality.
Monarch Room – 7,800sq.ft.
The legendary Monarch Room has been fully restored to its original splendor, and still echoes its History of roaring fashion shows and glamorous parties drawing Hollywood's elite. This elegant venue seats 350 for dinner, or 400 theater-style and features a signature stage and the glittering backdrop of Waikiki Beach.
Regency Ballroom/Regency Rooms – 4,032sq.ft.
At 96' x 42' the Regency Room can be divided into three, offering flexibility for grand presentations or smaller, more intimate gatherings.
Monarch Terrace – 10,000sq.ft.
At the entrance of the Monarch Room, our open-air terrace welcomes up to 200 for evening cocktails overlooking Waikiki.
Ocean Lawn – 9,900sq.ft.
Stretching all the way to the sands of Waikiki Beach, and with a stunning picturesque backdrop of Diamond Head, this spacious venue will host 2,000 for drinks at sunset, or 680 for dinner under the stars.
Coconut Grove – 56,000sq.ft.
At the heart of The Royal Hawaiian, a Luxury Collection Resort, lies our famed Coconut Grove, a scenic courtyard lined with swaying trees and lipstick-red ginger blossoms. Prepare for an enchanting evening with a banquet or reception of 2,000.
Royal Gardens at Helumoa –6,000sq.ft.
Our outdoor courtyard is designed for those desiring a memorable place for intimate gatherings.